Zaigraj Hot Coins: Hold and Win besplatno
Hot Coins: Hold and Win
Ideja

Grafika

Audio

Bonus
Playson je jedan od iskusnijih studija na tržištu i uvijek rado recenziramo njihove online automate. U ovom članku ćemo recenzirati njihov Hot Coins Hold and Win automat s 3 valjka, 3 reda i 10 isplatnih linija. To je prilično jednostavan slot, ali tu je, naravno, značajka Hold and Win kojoj se možete veseliti.
Ne postoji stvarna tema za Hot Coins Hold and Win, a valjci nude uglavnom vaše osnovne voćne simbole. Ipak, izgled slota je moderan i uglađen, što sveukupno čini pristojno iskustvo. Dizajneri su znali na što idu, a konačni rezultat je sasvim adekvatan.
Matematički model Hot Coins Hold and Win nudi srednje visoku razinu volatilnosti i učestalost pogodaka od 10,64%. Najviše što možete osvojiti je 1387 puta više od vaše oklade, a raspon klađenja je također prilično ograničen. Možete uskočiti s ulozima između €0,02 i €10 po okretaju, što će razočarati sve one koji igraju na visokoj razini. Nažalost, stvari ne postaju bolje ni s RTP-om igre, jer ima 95,61%, što je ispod prosjeka.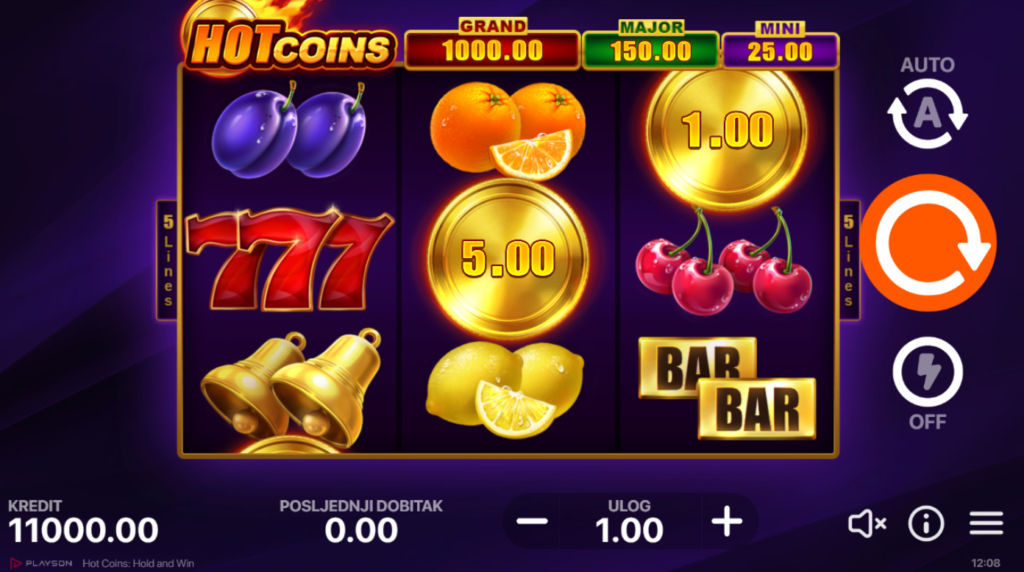 Hot Coins Hold and Win slot značajke
Postoji 8 simbola za isplatu u igrici Hot Coins Hold and Win, a vrlo ih je moguće ravnomjerno podijeliti na 4 simbola s niskom isplatom i 4 simbola s visokom isplatom. Ako pogledate simbole s niskim isplatama, vidjet ćete trešnje, limune, naranče i šljive. Ovi simboli mogu isplatiti do 4x vašu okladu, dok su isplate mnogo bolje sa simbolima koji daju više. One prikazuju grožđe, dinje, pločice i zvona. Zvona su simboli za koje je najviša isplata, a dobit ćete vrlo sočnu isplatu 30x za set od tri.
Osim simbola koji isplaćuju, tu su i Wild simboli sedmice i novčića. Wild sillmbol sedmice može zamijeniti druge simbole, a vrijedi 50 puta više od vaše oklade za kombinaciju. Simboli novčića u međuvremenu pokreću značajku Zadrži i osvoji.
Da biste došli do značajke Zadrži i osvoji, morate pronaći 3 ili više simbola novčića na valjcima. Dobit ćete 3 ponovna okretaja na početku značajke, a vaš cilj je dobivati simbole novčića što je duže moguće. Svaki novi simbol novčića resetira broj ponovnih okretaja na 3, a popunjavanje vodoravnih redaka omogućit će nestajanje simbola u tim redovima, dajući vam još više pozicija za igru.
Svaki regularni simbol novčića ima vrijednost između 1x i 15x vaše oklade, ali postoje i 3 Jackpot kovanice koje možete osvojiti. Stvarni jackpotovi zovu se Mini, Major i Grand i vrijede 25x, 150x odnosno 1000x vaše oklade.
Zaključak
Kao zaključak, Hot Coins Hold and Win je voćni slot koji dolazi s vlastitom značajkom Hold and Win. Na prvi pogled, ova kombinacija zvuči pristojno, ali kada sagledamo širu sliku, postaju vidljivi nedostaci igre. Nismo sigurni tko je ciljana publika za ovu igru, jer voćni slotovi obično privlače ljubitelje klasičnih igara, dok značajka Hold and Win može biti privlačna za one koji vole dodatnu uzbuđenje i mogućnost osvajanja velikih isplata.
Ipak, igra ima nekoliko nedostataka koji prevladavaju prednosti. Jedan od tih nedostataka je razočaravajuća RTP (Return to Player) vrijednost, što znači da se manji postotak uloženog novca vraća igračima u obliku dobitaka. Ovo može smanjiti privlačnost igre za neke igrače koji preferiraju igre s većim RTP-om kako bi povećali svoje šanse za ostvarivanje dobitaka na duge staze.
Uz to, ograničenje značajke Hold and Win također može utjecati na opću privlačnost igre. Iako značajka može donijeti dodatno uzbuđenje i potencijal za osvajanje velikih isplata, njeno ograničeno djelovanje može ograničiti raznolikost i dugotrajnost iskustva igranja.
U konačnici, Hot Coins Hold and Win donosi nekoliko nedostataka koji prevladavaju prednosti. Ograničenje značajke Hold and Win, zajedno s razočaravajućom RTP vrijednošću, čini ovu igru manje privlačnom za širu publiku. Igra može imati svoje obožavatelje među ljubiteljima voćnih slotova i onima koji vole dodatno uzbuđenje značajke Hold and Win, ali treba uzeti u obzir gore spomenute nedostatke prilikom odlučivanja o igranju ove igre.