Zaigraj Hell Hot 100 besplatno!
Hell Hot 100
Ideja

Grafika

Audio

Bonus
Hell Hot 100, uzbudljiva slot igra izrađena od strane prestižnog studija Endorphina, nije samo stupila na scenu kockanja, već je ostavila neizbrisiv trag od svog predstavljanja 26. svibnja 2021. Igrači su se zaljubili u nju zbog njezinih uzbudljivih mehanika igre i iznimnog umjetničkog dizajna.
Otkako je predstavljena, Hell Hot 100 uspjela je izgraditi posebno mjesto u srcima igrača, postajući popularan izbor među mnogobrojnim slot igrama. Njezina jedinstvena kombinacija uzbudljivih značajki i vizualno impresivnog dizajna izdvojila ju je stvarajući uzbuđenje koje i dalje raste.
Jedna od izuzetnih karakteristika Hell Hot 100 su njezine uzbudljive mehanike igre. Igra pruža uzbudljivo i uronjeno iskustvo, držeći igrače na rubu svojih sjedala sa svakim okretajem. Strateško uključivanje uzbudljivih značajki i dinamičnih elemenata dodaje slojeve uzbuđenja, čineći svaku igračku sesiju nezaboravnim putovanjem.
Grafika i zvuk
Hell Hot 100 Plus nudi klasičnu temu slota s hrabrim i živopisnim grafikama. Simboli, iako nisu komplicirani, savršeni su za igrače koji traže jednostavnu i užitak ispunjenu igračku sesiju. Igra uključuje šljive, grožđe, trešnje, lubenice, limune, 7-ice i divlje simbole, koji se svi zajedno kombiniraju stvarajući zadovoljavajuće pobjedničke kombinacije.
Set bubnjeva je okružen zlatnim okvirom, a zaslon je ukrašen dinamičnim atomima svjetlosti koji neprestano uzlijeću, pojačavajući vatrenu atmosferu igre. Pozadina ima izgorjele narančaste i duboko crvene nijanse, pružajući upečatljiv kontrast koji omogućuje simbolima da se istaknu.
Što se tiče zvuka, tijekom igre postoji minimalna pozadinska glazba, što rezultira još užitak ispunjenijim iskustvom. Glavni zvuk čini nježan klik bubnjeva koji se vrte, održavajući mirnu atmosferu. Zvučni efekti se koriste za proslavu dobitaka, pri čemu su veći uspjesi popraćeni ugodnim zvukom padanja novčića, dodatno pridonoseći uzbuđenju.
Simboli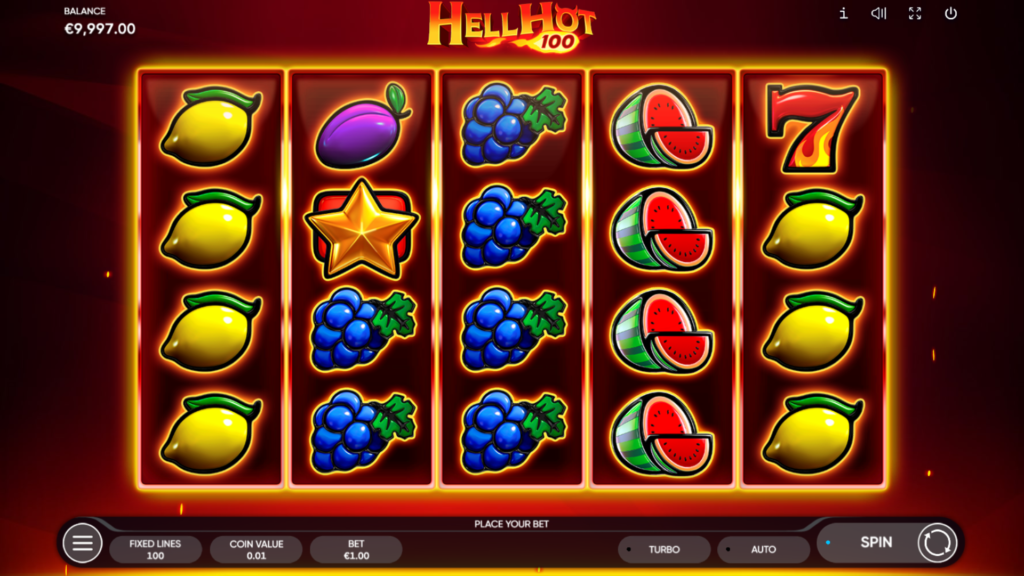 U Hell Hot 100 postoji ukupno osam simbola, svaki s vlastitim isplatama. Važno je napomenuti da se sve pobjede isplaćuju s lijeva na desno, a prikazane dobiti u nastavku temelje se na ulogu od 10:
5 x Divlji simboli: Isplata X100
5 x Sedmica simboli: Isplata X40
5 x Lubenica simboli: Isplata X20
5 x Grožđe simboli: Isplata X20
5 x Limun simboli: Isplata X10
5 x Šljiva simboli: Isplata X10
5 x Trešnja simboli: Isplata X10
Divlji simbol, predstavljen riječju 'divlji' iznad plamena, djeluje kao zamjena za sve druge simbole osim scatter simbola. Može se pojaviti na bilo kojem bubnju i ima sposobnost stvaranja slojeva na svim bubnjevima, povećavajući šanse za stvaranje pobjedničkih kombinacija.
Scatter simbol, prikazan zlatnom zvijezdom na crvenoj pozadini, također se može pojaviti na bilo kojem bubnju i nudi novčanu nagradu kada se pojavi u određenim količinama:
3 Scatter simbola: Isplata X50 4 Scatter simbola: Isplata X200 5 Scatter simbola: Isplata X5000
Bonus značajke
Iako Hell Hot 100 možda ne nudi tradicionalne bonus značajke poput besplatnih okretaja ili ponovnih okretaja, pruža zanimljivu i jedinstvenu mogućnost klađenja za igrače koji žele uživati.
Značajka Klađenja
Nakon uspješnog okretaja, igrači imaju opciju klađenja svojih dobitaka koristeći inovativnu značajku klađenja. Ova značajka uključuje element kartaške igre, gdje igrači biraju jednu od četiri karte s ciljem da pobijede kartu dilera. Ako igrač nadmaši dilera, njihovi dobitci se udvostručuju. No, ako dealer pobijedi, svi dobitci se gube. Značajku klađenja moguće je igrati uzastopno do 10 krugova.
Bitno je napomenuti da džoker karta ima značajnu prednost nad svim ostalim kartama, osiguravajući pobjedu za igrača, jer dealer ne može izvući džokera. U slučaju neriješenog rezultata, dolazi do izjednačenja, i igrači mogu odabrati još jednu kartu kako bi prekinuli zastoj. Važno je napomenuti da je prosječni povrat igraču (RTP) za značajku klađenja 84%.
Iako Hell Hot 100 možda ne pruža tradicionalne bonus značajke, uključivanje značajke klađenja dodaje uzbudljivu dozu rizika i nagrade za igrače koji traže dodatno uzbuđenje u svom iskustvu igranja.
Zaključak
U zaključku, Hell Hot 100 je slot igra s klasičnom temom, razvijena od strane Endorphina, koja igračima nudi zanimljivo i vizualno privlačno iskustvo igranja. Iako možda nedostaje tradicionalnih bonus značajki poput besplatnih okretaja ili ponovnih okretaja, nadoknađuje to svojom jedinstvenom značajkom klađenja, dodajući element rizika i uzbuđenja za igrače koji traže nešto drugačije. Hrabre i živopisne grafike, zajedno s jednostavnim mehanikama igre, čine je idealnim odabirom za one koji traže jednostavnu i užitak ispunjenu sesiju. S atraktivnim isplatama simbola i dostupnošću besplatnog testnog načina na Clash of Slots, igrači mogu doživjeti uzbudljivo iskustvo igre prije nego što se potpuno posvete.