Zaigraj Gates of Olympus besplatno
Gates of Olympus
Ideja

Grafika

Audio

Bonus
Automat Gates of Olympus jedan je od najnovijih dodataka portfelju Pragmatic Playa koji radi na 6 valjaka i 5 redaka s isplatnom linijom s dobitkom na sve načine. Čini se da je Pragmatic Play u posljednje vrijeme premjestio svoj fokus s Drevnog Egipta na Drevnu Grčku i, u ovom najnovijem automatu, vode vas u avanturu kako biste upoznali božanstva. Pripremite se da iskusite Zeusov gnjev koji biste mogli izazvati kucanjem na vrata Olimpa. Ako ste dovoljno hrabri da podnesete ono što bi se moglo dogoditi, možete započeti avanturu u bilo kojem Pragmatic Play kasinu za stvarno, ili ovdje za zabavu.
Kako igrati automat Gates of Olympus
Stavite svoje oklade i pripremite se za Zeusa koji će vas čekati na vratima Olimpa:
Pritisnite tipke +/- otvorit će ploču za izvlačenje koja će vam pomoći da manipulirate svojim okladama povećanjem ili smanjenjem ukupne oklade ili vrijednosti novčića i kladite se zasebno.
Pritisnite gumb Spin da biste pokrenuli vrtnju koluta.
Autoplay otvara ploču koja vam omogućuje da odaberete broj automatskih okretaja i želite li i kada da završe.
Klađenje na uključeno/isključeno dat će vam veće šanse za osvajanje bonus značajke, ali kada je uključeno, nećete moći uplatiti buy-in za rundu.
Značajke Slota
Gates of Olympus je slot igra koja donosi nekoliko značajki koje će oduševiti igrače, uključujući značajku Scatter simbola i krug besplatnih vrtnji.
U ovoj igri, Zeus je Scatter simbol koji se može pojaviti na svim valjcima i isplatiti se na bilo kojoj poziciji. Scatter simbol ima posebnu vrijednost jer je dovoljno pogoditi najmanje 4 Scatter simbola u istom okretaju kako biste aktivirali krug besplatnih vrtnji. Ova značajka dodaje uzbuđenje i mogućnost za dodatne dobitke tijekom igre.
Kada aktivirate krug besplatnih vrtnji, otvaraju se vrata Olimpa i ulazite u posebno bonus okruženje. U krugu besplatnih vrtnji, igrači dobivaju određeni broj besplatnih vrtnji koje se mogu ponovno pokrenuti ako pogode dodatne Scatter simbole tijekom bonus runde. Ovo otvara mogućnost za osvajanje više besplatnih vrtnji i povećanje šansi za ostvarivanje dobitaka.
Važno je napomenuti da svaki put kad se Scatter simbol pojavi tijekom kruga besplatnih vrtnji, on nosi množitelj koji se primjenjuje na dobitke ostvarene u toj rundi. Ovo znači da se svi dobitci mogu povećati zahvaljujući množitelju, što donosi dodatne izazove i potencijal za veće isplate.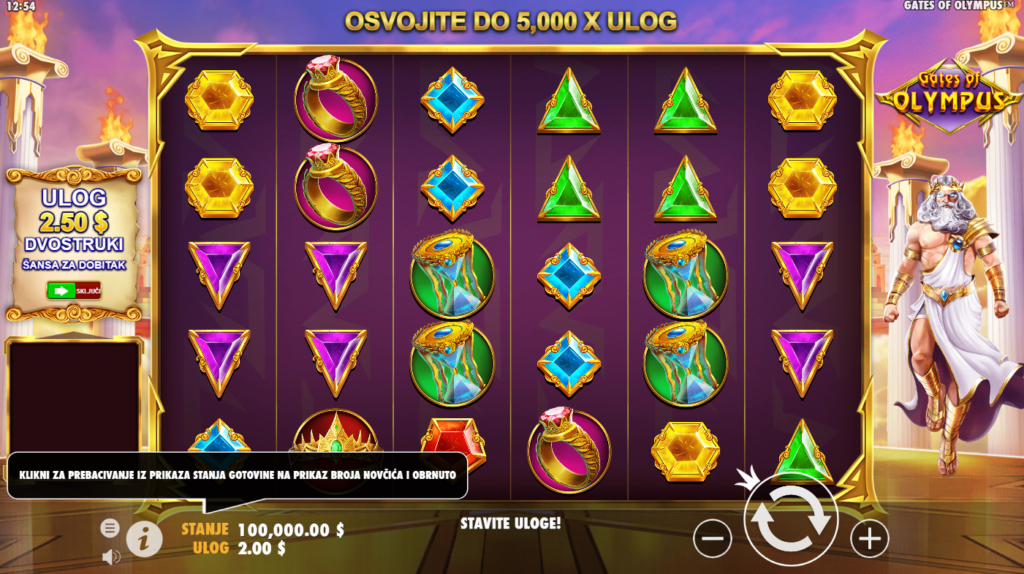 Značajka Tumble
Značajka Tumble se pokreće nakon svakog dobitka, gdje će svi simboli uključeni u dobitnu kombinaciju nestati s rešetke, preostali simboli će pasti i tako napraviti mjesta za nove simbole da padnu na mrežu. Prevrtanje traje sve dok postoje dobitne kombinacije koje se formiraju i ne postoji ograničenje koliko se prevrtanja može dogoditi.
Zeleni, plavi, ljubičasti i crveni dragulji simboli su množitelja koji se mogu pojaviti na svim valjcima i pogoditi nasumično tijekom okretaja. Oni mogu poprimiti nasumične vrijednosti množitelja koje se kreću između x2 i x500.
Besplatne vrtnje
Kada se pokrene runda besplatnih okretaja, dobit ćete 15 okretaja za početak, a kad god simbol množitelja pogodi vrtnju koja rezultira pobjedom, vrijednost množitelja će se dodati ukupnom množitelju. Svaki put kada pogodite 3 dodatna Scatter simbola tijekom runde, dobit ćete dodatnih 5 okretaja koji se dodaju ukupnoj vrijednosti preostalih okretaja.
Zaključak
Čini se da su Gates of Olympus Sweet Bonanza s obratom i promjenom teme, naravno. Potencijal pobjede nije baš visok, ali x5000 se sigurno čini dostižnim i više nego dovoljnim i vjerojatno boljim od nekog većeg ograničenja koje je teško dobiti. Dakle, ako volite automate visoke volatilnosti, onda vam je prilika da imate božanski niz sreće.