Zaigraj 5 Burning Heart besplatno
5 Burning Heart
Ideja

Grafika

Audio

Bonus
5 Burning Heart pojavio se na tržištu 25. prosinca 2017. s uzbudljivim igranjem i visokokvalitetnom grafikom. 5 Burning Heart je video slot igra s 5 stupaca i 5 fiksnih linija (redaka). Igra sadrži 11 vrsta karata – neke od njih su: jedna "Expanding Wild" karta i dvije "Scatters" karte. Sve dobitne kombinacije spaju se te isplaćuju slijeva nadesno, osim dobitnih kombinacija s kartama "Scatters".
nudi povrat od 95,94%, prosječnu razinu rizika i potencijal dobitka x5000, maksimalan dobitak. S prilično uravnoteženim matematičkim modelom i mogućnošću velikih promjena, igra je uvijek privlačna. Sve u svemu, pruža bogato iskustvo igranja.
Voćne pobjede
Možda nema ništa posebno novo ili jedinstveno u dizajnu ovog automata, ali to samo znači da se igrači mogu usredotočiti na radnju koja se odvija.
Kada je u pitanju igranje ove igre, nema skrivenih iznenađenja ili novonastalih elemenata igranja, samo čiste vrtnje sa šansom da osvojite neke prave novčane nagrade kad god se tri ili više odgovarajućih simbola poravnaju na jednoj od 5 fiksnih isplatnih linija (čak ćete osvojiti male nagrade kada dobijete dvije ikone od 7 na liniji).
Najveća nagrada od svih je 5,000x veći ulog na liniju i to se dodjeljuje kad god pet sedmica padne u uzorak isplatne linije. Dakle, ako biste stavili najveću ukupnu okladu u igri od 100, bit ćete u ultimativnom osnovnom jackpotu od 100.000, što uopće nije loše. Ne morate čak ni igrati s tim velikim ulozima, jer će ulog s niskim limitom od 5,00€ i dalje biti isplaćen do 5.000€.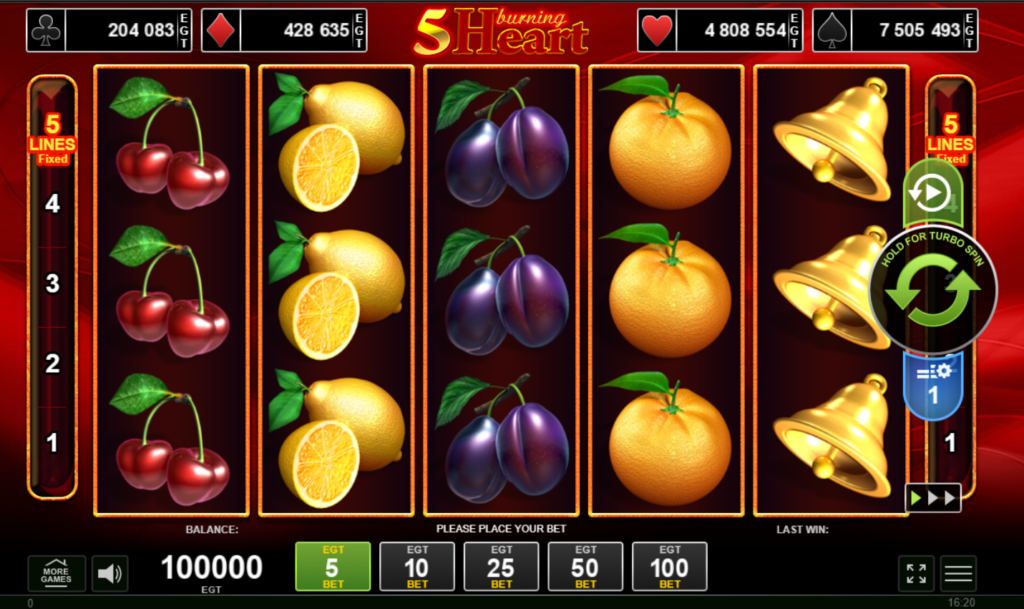 Bad a Bonus Boost igra
Ova igra je prilično ortodoksna što se tiče teme i radnje koja se odvija, ali to ne znači da nije u potpunosti lišena bilo kakvih bonus značajki. Postoji zapravo nekoliko dodatnih simbola koji imaju moć dodjeljivanja posebnih dobitaka, kao što su dva Wild simbola – prikazana zvjezdicom i znakom dolara – oba mogu isplatiti nagrade kada se simboli pojave izvan fiksnih obrazaca isplatnih linija . Povrh toga, igrači se mogu nadati da će osvojiti neke vruće nagrade uz rastući simbol Wild srca koji se pojavljuje na valjcima 2, 3 i 4.
Također postoji mogućnost osvajanja nekih nagrada izvan glavne osnovne igre. Na primjer, igrači mogu prenijeti svoje dobitke od okretaja u značajku kockanja. Sve što trebate učiniti je točno pogoditi je li igraća karta crvena ili crna kako biste udvostručili dobitak iz kvalifikacijskog okretaja. Igra također može pokrenuti progresivnu igru ​​'Jackpot Cards' nasumično, nudeći četiri različita nagradna polja u kojima možete zapeti.
Isti stari Slot?
Nećemo lagati – nema ničeg zapanjujućeg u ovom automatu za igre na sreću u velikoj shemi stvari. Tema je rađena iznova i iznova, a bonus elementi igranja su konvencionalni koliko god mogu biti.
Unatoč tome, automat još uvijek obećava potencijal za neke vrhunske dobitke, posebno s onom primamljivom progresivnom bonus igrom. Štoviše, automat ima potpunu kompatibilnost s ručnim uređajima tako da čak možete igrati 5 Burning Heart na mobitelu ili tabletu. A ako ste posebno nostalgični, svakako provjerite i klasike iz obitelji EGT poput 40 Burning Hot i 40 Super Hot automata.