Baccarat je izuzetno popularna casino igra koja se često povezuje s glamuroznim svijetom kockanja i visokim ulozima. Igru je popularizirao i sam fiktivni lik James Bond, koji je često prikazan kako uživa u igri Baccarat u svojim avanturama kao tajni agent 007.
Baccarat je vrlo brza i dinamična kartaška igra koja privlači igrače diljem svijeta. Za one koji žele naučiti igru, online igranje Baccarata pruža idealnu platformu. Online kasina pružaju mogućnost da se igra Baccarat u udobnosti vlastitog doma, gdje igrači mogu istraživati pravila i strategije igre bez pritiska ili žurbe.
Kada igrate Baccarat online, možete se upustiti u uzbudljive okršaje s drugim igračima ili s virtualnim djeliteljem. Igra se temelji na jednostavnim pravilima u kojima se cilj igre svodi na predviđanje rezultata između dva dijeljenja karata, "BANCO" (Banker) i "PUNTA" (Player), ili eventualno na neriješen rezultat – "EGALITE".
Baccarat je poznat po brzini igre, gdje se karte dijele vrlo brzo, što igračima omogućuje da uživaju u kontinuiranom uzbuđenju. Ova brza dinamika igre čini je izazovnom i uzbuđujućom za igrače koji traže adrenalin i trenutnu akciju.
Online igranje Baccarata omogućava igračima da se upuste u ovu popularnu igru bez potrebe da posjete fizičko kasino. Također, mnoga online kasina pružaju mogućnost besplatnog igranja Baccarata kako bi igrači mogli vježbati svoje vještine i strategije prije nego što se odluče za ulaganje stvarnog novca.
Uz jednostavna pravila i online dostupnost, Baccarat je postao jedna od omiljenih casino igara među ljubiteljima kartanja diljem svijeta. Uronite u svijet Baccarata, istražite njegove varijacije i uživajte u uzbuđenju ove dinamične igre, baš kao i slavni James Bond.
Uputstvo za igranje Baccarata
U Baccaratu, slično kao i kod igranja Black Jacka, igrač se suočava s djeliteljem, stvarajući dinamičan dvoboj između igrača i banke. Ukoliko ste već upoznati s pravilima Blackjacka, primijetit ćete sličnosti između ove dvije igre, ali Baccarat ima svoje specifičnosti i jedinstveni način bodovanja.
Baccarat se igra sa standardnim špilom od 52 karte, bez dodataka Jokera. Prije početka igre, igrač postavlja ulog na ruku koju smatra da će biti pobjednička: ruku igrača (punto), ruku banke (banco) ili na neriješen rezultat (tie).
Nakon što igrač postavi ulog, dijele se po dvije karte svakoj od dvije ruke – ruci igrača i ruci banke. Cilj igre je skupiti zbroj karata koji je najbliži broju 9. Međutim, postoji izuzetak u pravilima. Ako ukupan zbroj bodova nakon gledanja prvih dviju karata iznosi 0-5, igrač mora izvući treću kartu kako bi povećao svoje šanse za pobjedu. S druge strane, ako je ukupan zbroj bodova 6-7, igrač ostaje s prvobitno dobivenim kartama. Ukoliko igrač ima zbroj bodova 8 ili 9, to se naziva "prirodni" rezultat i smatra se pobjedničkim, bez obzira na zbroj karata banke.
Nakon što igrač završi s izvlačenjem karata, dolazi red na banku. Banka slijedi slična pravila kao i igrač, ali njeno ponašanje ovisi o rezultatu igrača. Banka također može izvući treću kartu ovisno o zbroju svojih karata. Na kraju, uspoređuju se zbrojevi bodova ruke igrača i ruke banke. Ruka s ukupnim zbrojem karata koji je najbliži broju 9 pobjeđuje.
Važno je napomenuti da Baccarat nudi mogućnost klađenja na neriješen rezultat (tie). Ovo je opcija koju igrač može odabrati ako vjeruje da će zbroj bodova obje ruke biti jednak. Klađenje na neriješen rezultat obično nosi veće isplate, ali je i manje vjerojatno da će se ostvariti.
Baccarat je igra koja kombinira elemente sreće i strategije, a brzina igre pruža uzbudljivo iskustvo. Kroz igranje Baccarata, igrači mogu uživati u napetosti i uzbuđenju dok pokušavaju predvidjeti ishod igre i ostvariti dobitak.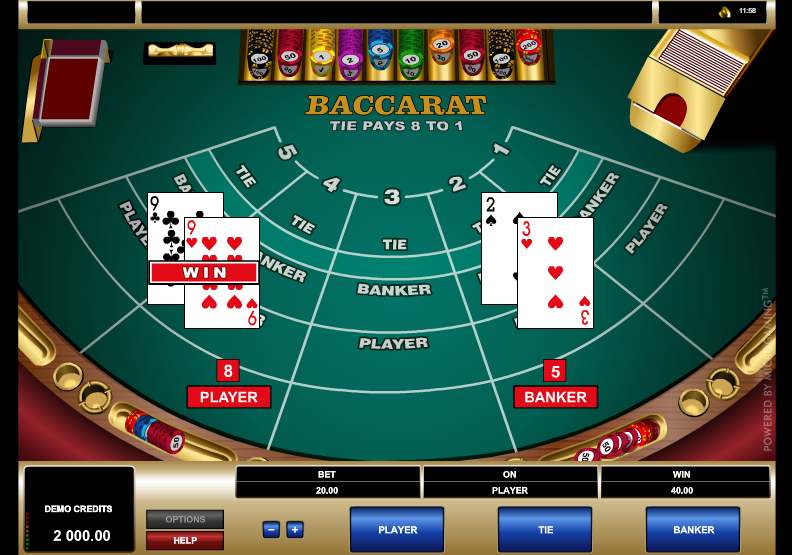 Baccarat – način bodovanja
As – 1 bod,
dama – 0 bodova,
dečko- 0 bodova,
kralj – 0 bodova,
desetka – 0 bodova,
devetka – 9 bodova,
osmica – 8 bodova,
sedmica – 7 bodova,
šestica – 6 bodova,
petica – 5 bodova,
četvorka – 4 boda,
trojka – 3 boda,
dvojka – 2 boda,
Bodovi koji nose dvije karte se zbrajaju i dobiva se ukupan rezultat runde. Idealno je dobiti 9 bodova, a ako dobijete dvoznamenkasti broj, gleda se druga znamenka tog broja.
PRIMJER – Dobili ste kralja (0) i osmicu (8). 0+8=8. Zbroj vaše ruke iznosi 8.
PRIMJER – Dobili ste peticu (5) i sedmicu (7). 5+7=12. Zbroj vaše ruke iznosi 2.
Baccarat – zarada
Kada se kladite na Baccaratu, imate mogućnost odabrati na koju ruku ćete se kladiti i postići dobitak. Ovisno o vašem odabiru, isplate se razlikuju.
Ako se odlučite kladiti na ruku igrača (punto) i pobijedite, dobit ćete isplatu u omjeru 1:1. To znači da ćete dobiti jednak iznos kao što ste uložili.
Kada se kladite na ruku banke (banco) i ostvarite dobitak, važno je napomenuti da će banka zadržati 5% provizije od vašeg dobitka. Na primjer, ako ste uložili 100 eura na banku i pobijedili, vaš dobitak će biti 95 eura, dok će banka zadržati 5 eura kao proviziju.
Opcija klađenja na neriješen rezultat (tie) pruža najveću isplatu, ali je istovremeno najmanje vjerojatna opcija. Ukoliko se odlučite na klađenje na neriješeno i pobijedite, dobit ćete isplatu u omjeru 8:1. To znači da će vaš dobitak biti osam puta veći od vašeg uloga.
Važno je napomenuti da postoji više varijacija Baccarata, te se pravila mogu razlikovati od casina do casina. Prije igranja, preporučuje se da se upoznate s pravilima specifične verzije Baccarata koju igrate kako biste imali potpuno razumijevanje igre i njene isplate.
Baccarat je igra koja privlači igrače svojom jednostavnošću, brzinom i mogućnošću ostvarivanja velikih dobitaka, te je stoga postao omiljeni izbor mnogih ljubitelja kockanja diljem svijeta.