Zaigraj 20 Super Hot besplatno
20 Super Hot
Ideja

Grafika

Audio

Bonus
20 Super Hot vam nudi pravi retro doživljaj slot igara. Pokretači ove igre napravili su pun pogodak s idejom koju su uspješno realizirali u ovoj igri.
20 Super Hot je video slot igra koju pokreće EGT (Euro Games Technology) softver.
Ideja
Već u samom imenu tvorci ovog slota otkrivaju vam koliko načina za pobijediti imate. Kao što ste i pogodili – 20.
20 Super Hot je šarolika slot igra u kojoj imate voćne simbole, zvijezde i tradicionalne sedmice. Najzastupljeniji su voćni simboli, a najnižu vrijednost imaju naranče, limuni i trešnje koji za 1 kredit daju od 10 do 100 kredita.
Nakon njih lubenice i šljive daju 20 do 200 kredita, grožđe za 1 kredit daje 20, 80 ili 400 kredita.
Najvažniji simboli su tzv. Scatter simboli, a u ovoj igri to su zvijezde. One "otključavaju" razne bonuse i mogu vam za 1 kredit donijeti od 100 do čak 10 000 kredita. "Sedmice" imaju tzv. Wild funkciju i mogu zamijeniti sve simbole osim Scatter simbol. Sedmice se mogu pojaviti u bilo kojem retku i na taj način vam povećavaju šansu za pobjedom.
Kao i druge Slot igre koje pokreće EGT softver i ova slot igra ima opciju auto play, pa ako je aktivirate možete sjesti i uživati bez potrebe da nakon svake runde iznova okrećete slot.
20 Super Hot grafika
Grafika u igri 20 Super Hot nosi prepoznatljiv retro stil koji će posebno privući igrače koji su uživali u igranju sličnih igara u prošlosti, kada su one bile vrlo popularne prije pojave online igara.
Svi simboli u igri su jasno prikazani, što doprinosi čistoći i preglednosti igre. Svaki simbol je dizajniran s pažnjom, s naglaskom na jednostavnost i prepoznatljivost. Ova jasnoća omogućuje igračima da lako prepoznaju simbole i prate svoje dobitne kombinacije.
Interface igre je također jasan i čist, što dodatno poboljšava korisničko iskustvo. Elementi su postavljeni na logičan način, omogućujući igračima jednostavno upravljanje igrom i lako snalaženje.
Ukupno gledajući, grafika u igri 20 Super Hot donosi autentičan retro izgled koji će oduševiti ljubitelje klasičnih slot igara. Jasno prikazani simboli i čist interface čine igru izuzetno privlačnom i omogućuju igračima da se potpuno prepuste uzbudljivom iskustvu. Isprobajte 20 Super Hot i vratite se u vremena kada su ove vrste igara bile najpopularnije.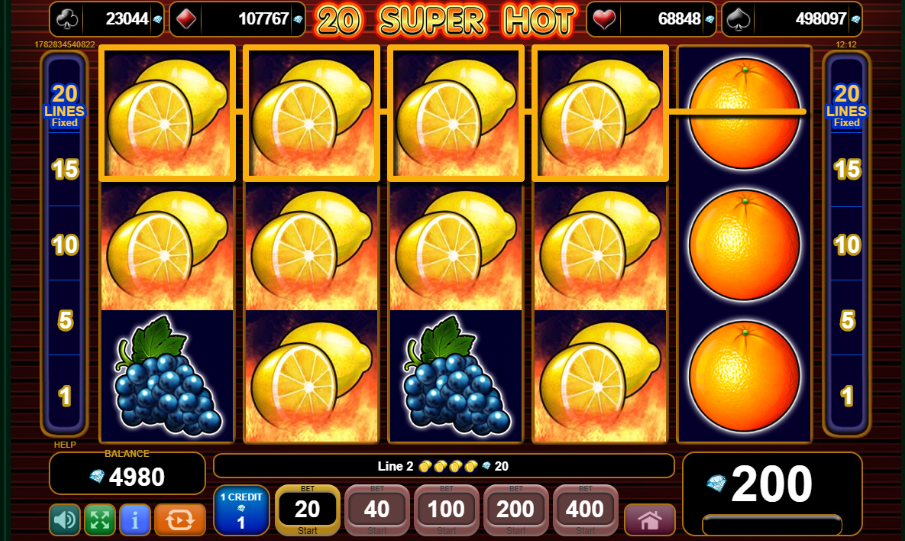 Audio
Svako okretanje valjaka u igri 20 Super Hot prati karakterističan kratki zvuk koji je prepoznatljiv za slot igre. Ovaj zvuk dodatno pridonosi autentičnosti i doživljaju klasičnih slotova.
Kada ostvarite dobitnu kombinaciju, u igri se aktivira kratka melodija. Dužina melodije ovisi o visini ostvarenog dobitka. Što je dobitak veći, to će melodija biti duža. Ova raznolikost u trajanju melodija dodatno povećava uzbuđenje i napetost tijekom igre.
Osim toga, u igri nema drugih značajnih upotreba zvuka. Fokus je stavljen na održavanje autentične atmosfere klasičnih slot igara s osnovnim zvučnim elementima koji prate klasični dizajn i dobitne trenutke.
Ukupno gledajući, audio aspekt igre 20 Super Hot je jednostavan, ali učinkovit. Zvukovi prate osnovne elemente igre i dodaju dozu uzbuđenja i nagrade tijekom dobitnih kombinacija. Iskusite nostalgično iskustvo klasičnih slotova uz karakteristične zvučne efekte igre 20 Super Hot.
Bonus
Da biste ostvarili pravo na bonus u igri 20 Super Hot, potrebno je dobiti Scatter simbol, a u ovom slučaju to je simbol zvijezde. Kada se zvijezda pojavi na valjcima, "otključava" različite bonuse koji vam mogu donijeti iznimno visoke nagrade, pa čak i do 10 000 kredita.
Nakon što osvojite nagradu, imat ćete mogućnost udvostručenja vašeg dobitka. Otvorit će se opcija u kojoj možete pokušati pogoditi boju sljedeće karte – crvenu ili crnu. Ako točno pogodite, vaš dobitak će se udvostručiti, a ako promašite, izgubit ćete osvojeni iznos. Važno je napomenuti da je ova opcija dobrovoljna i da je možete preskočiti ako ne želite preuzeti rizik.
Ova dodatna mogućnost pruža vam dodatno uzbuđenje i priliku da značajno povećate svoje dobitke. No, na vama je da odlučite hoćete li preuzeti rizik ili zadržati svoj osvojeni iznos. Ova opcija udvostručenja nagrade dodatno obogaćuje iskustvo igre i omogućuje vam da svoje dobitke podignete na novu razinu.
Zaključak
Ako ste ljubitelj retro slot igara, slot igra 20 Super Hot je definitivno pravi izbor za vas. Ova igra pruža bogat spektar mogućnosti za dobitak i autentično iskustvo slot igara.
Jedna od glavnih prednosti ove igre je njezin širok raspon mogućnosti za osvajanje nagrada. Sa svojim raznolikim simbolima i dobitnim kombinacijama, igrači imaju izvrsne šanse za ostvarenje značajnih dobitaka. Svaki okret valjaka nosi uzbuđenje i mogućnost osvajanja velikih nagrada.
Osim toga, ova slot igra pruža pravo retro iskustvo sa svojom grafikom i zvučnim efektima. Uživajte u jasno prikazanim simbolima i čistom sučelju koje čini igru izuzetno privlačnom.
U zaključku, slot igra 20 Super Hot je sjajan izbor za sve ljubitelje retro slot igara. Veliki potencijal za dobitak i autentično slot iskustvo čine ovu igru neodoljivom. Isprobajte je i uživajte u širokom dijapazonu mogućnosti za ostvarivanje dobitaka.