Zaigraj Book of Spells besplatno
Book of Spells
Ideja

Grafika

Audio

Bonus
Automat Book of Spells
Book of Spells, iako je idealan za igranje tijekom mjeseca Noći vještica, može se uživati tijekom cijele godine, iako čekanje punog mjeseca daje dodatnu snagu.
Vještice su konačno iskopale knjigu čarolija, ultimativni vodič kako postati moćan Wiccan, a magija koja se nalazi u njoj može se pretvoriti u dobro ili iskoristiti u loše svrhe. Naša sudbina i sudbina onih koje poznajemo ovisi o tome kako vještice odluče istražiti svoje novootkrivene sposobnosti.
Iako ćete kuhati mnogo napitaka, gledajući kako oni uče zajedno s vama kao pripravnikom, morate imati na umu što je zapravo vaša potraga: spriječiti da se nešto loše dogodi. Osvoji x5,000 jackpot. Učinite jedno od toga ili oboje i automat Book of Spells ponovno će biti siguran.
Otvaranje knjige
Za razliku od normalnih knjiga koje se jednostavno otvaraju i zatvaraju kad vi to želite, ovaj svezak morate nagovoriti da dragovoljno ponudi svoja čuda, a vjerujete li da je novac jedina stvar na koju reagira. Znam, i mi smo bili šokirani.
Book of Spells omogućit će vam da promijenite 9 isplatnih linija kako vam odgovara, ali vam neće dopustiti da se kladite ispod 0,05 ili više od 2 novčića, što znači da ćete uvijek morati igrati s malim ulogom od 0,45 ili s veliki od 18. Iako se knjiga može namrštiti na oprez, možete igrati s bilo kojim iznosom za koji smatrate da je najbolji za vas – čak možete igrati i besplatnu verziju automata ako želite. Nećete dobiti nikakve stvarne dobitke pa vam novac neće biti poklonjen, ali izbor je vaš.
Odabir gumba Max Bet neće samo promijeniti iznos uloga, nego će također pokrenuti vrtnje umjesto vas. Na sličan način to je ono što Autoplay radi, samo što ne čini ništa vašem novčanom tijeku, samo pomaže da igranje bude lakše upravljivo; prsti počinju boljeti kad su stalno u upotrebi. Opakost automata za kockanje počinje nas proganjati.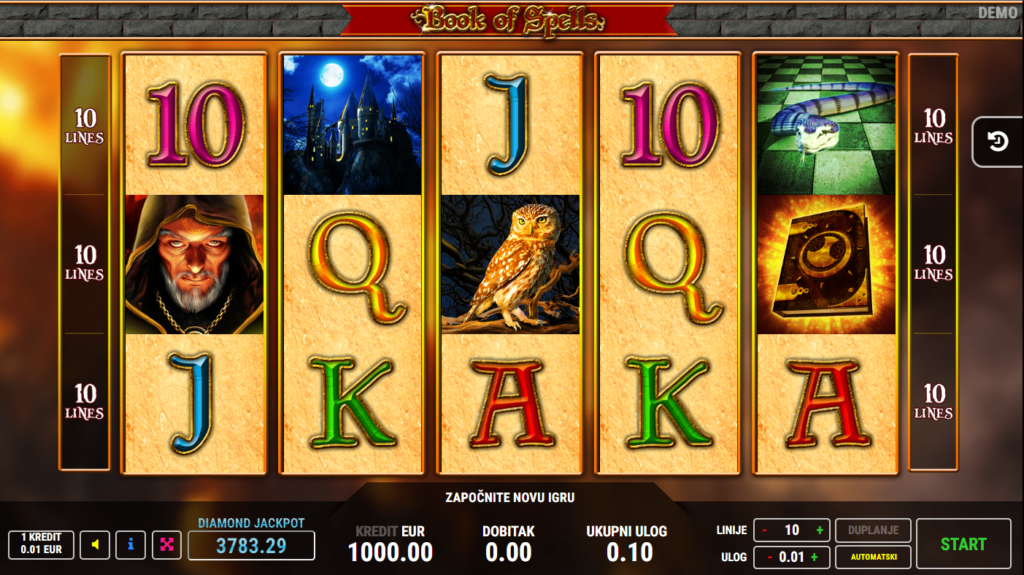 Muka i nevolja
Knjiga zaživljava kada pokrene besplatne okretaje, kojih ima ukupno 10. Ono što će se dogoditi tijekom tog vremena je da će se nasumično odabrati simbol koji će postati poseban za vrijeme trajanja rundi. Kad god se pojave, donijet će vam dobitak, no ako naprave dobitnu liniju, proširit će se na valjke. Ovo proširenje znači veće povrate za vas.
Ono što nam se jako sviđa je činjenica da se valovi mogu pokrenuti tijekom vaših početnih okretaja, jedino što knjiga neće ponovno odabrati novi simbol, i dalje ćete se igrati sa starim. Nije bitno, ali bilo bi lijepo imati više opcija unutar ove mini razine.
Osim toga, nema puno toga za pokrenuti ili otvoriti, što se čini tužnim za knjigu koja bi trebala čuvati sve tajne o vješticama i njihovim skupštinama – čak ni vodeća vještica ne može učiniti više od toga da vam da 5000 bodova. Sve je to u redu, ali ne bi li ona trebala raditi nešto drugo, recimo biti Wild simbol za nas? Ne, u redu onda, sada se osjećamo malo isprazno.
Knjiga laži
Oprosti, Tom Horn, ali ova igra nije puna čarolija i magije, ima samo jednu bonus rundu i to je vrlo osnovna postavka koja ne zahtijeva nikakve inovacije s tvoje strane. Postoji toliko načina na koje se ova tema mogla proširiti i učiniti opipljivom, s uključenim nizom značajki umjesto samo jedne. A mogućnost kockanja se ne računa jer se može isključiti.
Čini se kao da je napravljeno isključivo radi financijske dobiti, i da, iako su sve igre krive za to, nisu sve tako očite. Sadržaj je potreban i jako željen od strane publike, a ovaj put to nisu uspjeli učiniti.