Zaigraj 20 Burning Hot besplatno
20 Burning Hot
Ideja

Grafika

Audio

Bonus
20 Burning Hot je uzbudljiva slot igra koja je privukla veliki broj igrača kojima se sviđaju retro slot igre.
Ideja
Ovaj slot u svom imenu već donosi broj opcija koje imate za ostvarenje dobitka, a to je 20. 20 Burning Hot izuzetno je zanimljiva slot igra koju čine različiti simboli, neki od njih su voćni simboli, zvjezdice, simbol dolara i zvonca. Tu je i djetelina s četiri lista koja, ovisno gdje se nađe na linijama, može aktivirati velike dobitke. "Sedmice" imaju tzv. Wild funkciju i mogu zamijeniti sve simbole osim Scatter simbola. Sedmice se mogu pojaviti na bilo kojoj liniji i na taj način vam povećavaju šansu za pobjedom.
Grafika
20 Burning Hot slot igra doista se može nazvati retro igrom koja nas vraća u vrijeme prvih slot aparata. Njen izgled i dizajn podsjećaju na klasične slotove koji su nekad bili temelj slot igara. Stoga nije iznenađenje što je posebno popularna među starijim igračima koji cijene nostalgični osjećaj i vraćanje u ta vremena.
Ono što igrače najviše privlači kod ove igre je čisti interface i jednostavnost koju pruža. Sve simbole lijepo su poslagani na kolutima, s jasnim i prepoznatljivim ikonama. Interface je dizajniran na način koji omogućava igračima lako razumijevanje i praćenje igre bez nepotrebnih komplikacija.
Ono što je za igrače važno je da je provider EGT igru napravio tako da ima čist interface s jasnim i lijepo poslaganim simbolima. Bez obzira na to jeste li stariji igrač koji se prisjeća prošlih vremena ili novi igrač koji tek upoznaje svijet retro slot igara, interface 20 Burning Hot igre će vam omogućiti glatko i intuitivno igranje.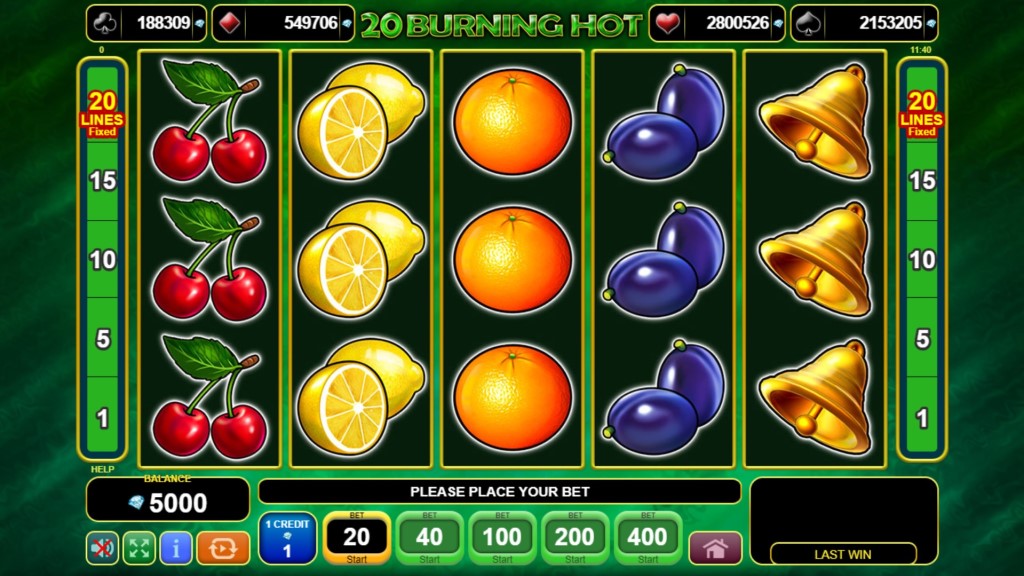 Audio
Audio u igri 20 Burning Hot prati tipičan stil zvukova slot igara. Nema revolucionarnih ili inovativnih elemenata. Svako okretanje slota praćeno je prepoznatljivim zvukom koji karakterizira klasične slotove. Tijekom igre, kada ostvarite dobitak, čut ćete kratke i karakteristične vesele melodije koje prate taj trenutak slavlja.
Osim toga, u igri 20 Burning Hot nema drugih značajnih zvučnih efekata ili melodija. Fokus je stavljen na osnovne zvučne elemente koji prate mehaničko okretanje slota i obavještavaju vas o dobitcima.
Važno je napomenuti da, iako nema revolucionarnih ili složenih zvučnih elemenata, audio zapisi u igri 20 Burning Hot održavaju konzistentnost s klasičnim slot igrama. Oni pružaju autentično iskustvo klasičnog slota i doprinose atmosferi igre.
Bonus
Pravo na bonus u 20 Burning Hot vam otključava simbol djeteline s četiri lista. Ovaj simbol je tzv. Wild simbol i pomaže u dovršavanju dobitne linije dobitka. Ova igra također sadrži dva različita Scatter simbola, iako nijedan od njih nije povezan s bonus rundom. Jedan od Scatter simbola je dolar, a isplaćuju se ako negdje na kolutima pronađete tri ili više. Slično tome, postoje zvijezde koje se pojavljuju samo na prvom, trećem i petom kolutu; pogodite li sva tri opet ćete dobiti trenutnu isplatu pribrojenu svim ostalim dobicima koje ste prikupili.
Zaključak za 20 Burning Hot
Ako volite retro slot igre, 20 Burning Hot je definitivno pravi izbor za vas. Ova igra pruža zanimljivo iskustvo s uzbudljivim Wild i Scatter simbolima koji mogu donijeti dodatne dobitke i poboljšati vašu igru.
Jedan od ključnih elemenata 20 Burning Hot su Wild simboli, koji imaju moć zamjene druge simbole na kolutima, osim Scatter simbola, kako bi stvorili dobitne kombinacije. To znači da Wild simboli mogu povećati vaše šanse za ostvarivanje dobitaka i unijeti dodatni uzbuđenje u igru.
Scatter simboli također igraju važnu ulogu, jer mogu aktivirati bonus funkcije ili besplatne vrtnje. Ove dodatne značajke mogu vam donijeti dodatne dobitke bez ulaganja dodatnog novca, pružajući vam priliku za još veću zabavu i užitak.
Grafika u igri 20 Burning Hot je šarena i privlačna, a audio zapisi prate tipičan stil zvukova slot igara. Iako nema revolucionarnih zvučnih efekata, igra zadržava autentičnost klasičnih slotova.