Zaigraj Princess of Pearls besplatno
Princess of Pearls
Ideja

Grafika

Audio

Bonus
Amatic, poznati dizajner igara, odvodi nas duboko pod Tihim oceanom u slot igri Princess of Pearls, gdje nas draguljima ukrašena princeza pomaže u sakupljanju bisera kako bismo povećali dobitke.
Igra se odvija na klasičnom setu valjaka veličine 5×3, koji sadrži 20 podesivih dobitnih linija koje isplaćuju slijeva nadesno. Broj linija može se prilagoditi od 20 do 10, ovisno o vašim željama.
U slot igri Princess of Pearls možete pronaći divljeg simbola – dupina, koji ima moć zamjene ostalih simbola osim bisera. Princeza se također pojavljuje kao prošireni simbol, a simbolizira najveću vrijednost u igri s potencijalnom maksimalnom isplatom X1000. Ostali simboli koji donose dobitak su kornjača i hobotnica, crna i bijela riba, plava riba i morska zvijezda, poredani prema vrijednosti. Dodatno, postoje simboli niže vrijednosti karata, od Ace do Desetke. Slot Igra također uključuje ciklus značajku, u kojoj se sakupljaju biseri na valjku, što rezultira pretvaranjem cijelog valjka u divlji simbol.
Grafika i zvuk
Slot igra Princess of Pearls oduševit će vas svojom prekrasnom grafikom i zvučnim efektima. Svaki detalj igre pažljivo je dizajniran kako bi stvorio dojmljivu atmosferu podvodnog svijeta bajki. Grafika je izuzetno detaljna i živopisna, s prekrasnim prikazima princeza, bisera i drugih simbola na valjcima. Osim toga, animacije su glatke i dobro izrađene, dodajući dodatnu dimenziju igri.
Zvučni efekti pružaju vam dojam da se zaista nalazite pod vodom, sa zvučima valova i morskih stvorenja koja vas okružuju. Glazba prati igru i stvara ugodnu atmosferu, dok se zvučni efekti pojačavaju tijekom dobitnih kombinacija i posebnih značajki. Sve to zajedno stvara potpuno uranjanje u svijet igre i dodatno povećava doživljaj igranja.
Grafika i zvuk u slot igri Princess of Pearls su vrhunske kvalitete i pružaju vam vizualno i zvučno zadovoljstvo tijekom cijelog iskustva igranja. Uživajte u prekrasnoj estetici i atmosferi koju stvaraju grafika i zvuk, dok istražujete podvodni svijet i osvajate velike nagrade.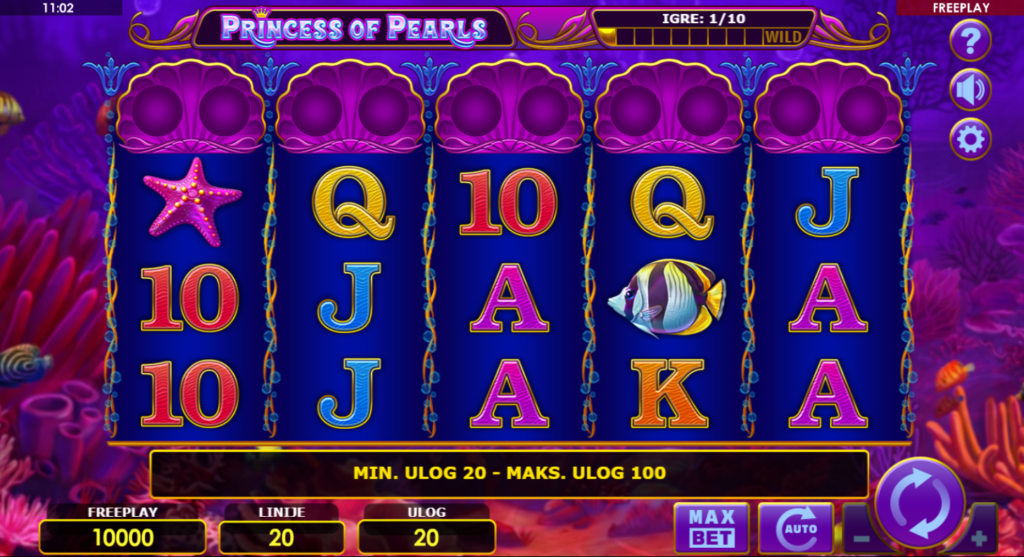 Wild simbol
Dupin je divlji simbol u ovoj igri. Kao divlji simbol, dupin ima sposobnost zamjene za druge simbole na valjcima kako bi pomogao u stvaranju ili poboljšanju dobitnih kombinacija. Kada se dupin pojavi na valjku, može vam donijeti veće šanse za ostvarivanje pobjedničkih linija i veće isplate. Njegova prisutnost u igri dodaje uzbuđenje i potencijalne dobitke, stvarajući dinamično iskustvo igranja. Uz divljeg simbola dupina, vaše šanse za osvajanje velikih nagrada u ovoj igri bit će povećane.
Značajka Cycle
Igra također prikazuje značajku ciklusa i značajku kockanja kako bi stvari bile zanimljive. Nakon 10 okretaja, valjci na kojima su sakupljena 2 bisera pretvorit će se u naslagani wild simbol. Igrajte Princess of Pearls automat online i aktivirajte način kockanja kako biste imali priliku umnožiti svoj dobitak. Jednostavno odaberite boju sljedeće karte u nizu kako biste udvostručili svoj dobitak ili odaberite sljedeću boju kako biste ga učetverostručili.
Zaključak
Ovo je zapanjujuća slot igra iz Amatica na koju će mnogi igrači pasti zahvaljujući prekrasnoj temi i inovativnim bonusima. Slot igra Princess of Pearls pruža nevjerojatno iskustvo uranjanja u podvodni svijet bajki i blaga. Od prekrasne grafike do uzbudljivih značajki poput divljih simbola i značajke ciklusa, ova igra ima sve što je potrebno da vas očara i zabavi. Sakupljajte bisere, osvajajte dobitke i doživite čaroliju igre Princess of Pearls. Bez obzira jeste li ljubitelj slot igara ili samo tražite novu avanturu, ova igra će vas sigurno oduševiti. Spremite se za putovanje ispunjeno uzbuđenjem i pridružite se princezi u potrazi za blagom duboko pod Tihim oceanom.
Možete igrati Princess of Pearls besplatno kod nas ili pravim novcem u mnogim našem online kasinu.