Zaigraj Legacy of Dead besplatno
Legacy of Dead
Ideja

Grafika

Audio

Bonus
Play n' Go je upravo izdao novi dodatak Legacy/Book/Dead asortimanu automata. Pregled bi se mogao činiti gotovo suvišnim u ovoj fazi jer ako ste igrali jednu, na neki način ste ih igrali sve. Nema veze, vrijeme je da namažete kremu za sunčanje s faktorom 50 i vratite se još jednom u stari Egipat. Je li vrijedno vašeg vremena? Nadobudni arheolozi mogu upaliti svoju istrošenu plamenu baklju i pridružiti nam se da saznamo.
Što se tiče ovih Legacy/Book/Dead automata, grafika je bolja od većine. Ovaj video automat s 5 valjaka i 10 isplatnih linija smješten je u, pogađate, egipatski hram prepun gorućih baklji i kamenih stupova. Simboli su dobro nacrtani i imaju lijepu modernu oštrinu zbog visoke rezolucije. Izgledat će poznato jer su gotovo sve iste kao one korištene u Book of Dead. Na manje uzbudljivom kraju isplatnog stola su 10 – kraljevski asovi. Gornji kraj čine bog Horus, faraon, Anubis i Tutankamon. Posljednji isplaćuje 500 puta veći ulog za pet iste vrste i ključ je najvećeg potencijala isplate u igri.
Legacy of Dead može se igrati od 10 c po okretaju do €100 na većini uređaja. Kao što se i očekivalo, volatilnost je postavljena na visoku vrijednost, što dobro funkcionira sa stilom bonus igre i vrijednostima simbola. Do sada smo već čuli takve stvari, nekoliko puta. Ono što Legacy of Dead spašava od potpunog otpisivanja kao ciničnog klona je ista stvar koja je automate poput Book of Ra održala popularnima. Vrhunska bonus igra koja može promijeniti frustrirajuću sesiju igranja u trenutku.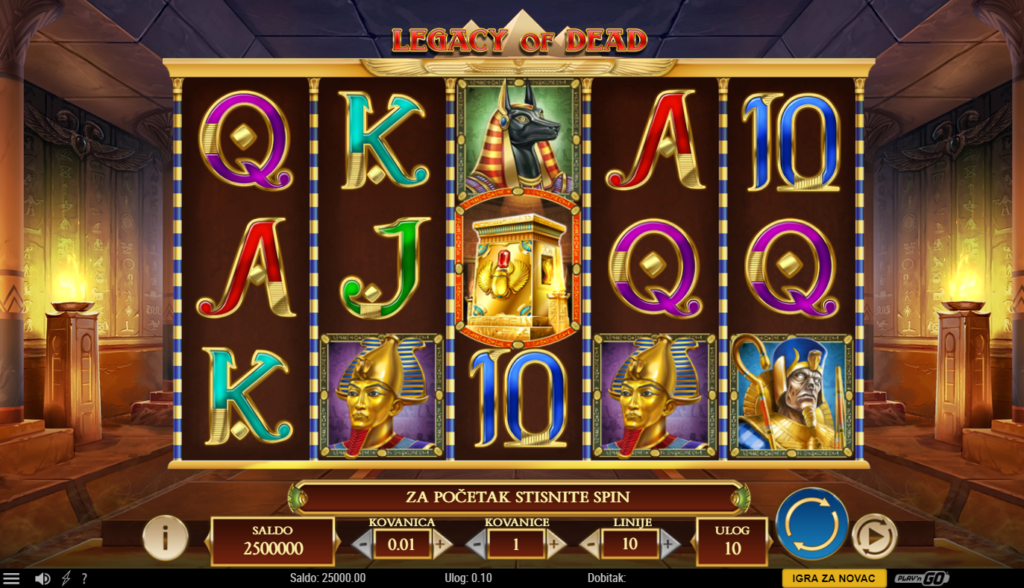 Legacy of Dead: Značajke
Značajke Legacy of Dead uključuju besplatne vrtnje sa simbolima koji se šire – dodatna vrtnja. Najpoželjniji simbol u igri je ikona grobne komore. Igra nekoliko uloga i također isplaćuje 1x, 10x, 100x i 500 puta veći ulog kada se 2 ili više njih spusti na mreži. To je Wild simbol igara i zamijenit će bilo koji drugi simbol iz tablice isplata. Međutim, najjača značajka je Scatter.
Kao i kod drugih automata Legacy/Book, tijekom besplatnih okretaja događa se prava magija. Kako bi pokrenuli ovu značajku, igrači trebaju osvojiti 3 ili više Scatter simbola kako bi dobili 10 besplatnih okretaja. Zajedno s otvaranjem bonus igre, 3, 4 i 5 Scatter igre također nagrađuju igrače s 2x, 20x i 200x njihovim ulozima. Neposredno prije nego što besplatni okretaji uskoče u igru, svitak se odmotava, a jedan od simbola isplatne tablice odabire se nasumično kako bi postao poseban. Kada dođe ovaj poseban simbol, širi se i pokriva cijeli kolut. Ubojiti udarac je, međutim, isplata posebnih simbola kada tri ili više njih sleti bilo gdje – ne moraju biti jedan pored drugog. Cilj igre je dobiti jedan poseban simbol na svakom valjku (po mogućnosti Tutankamona) za proširenje i potpuno maksimiziranje mreže. Ako se tijekom bonus runde pojave 3 Scatter simbola, tada se ukupnom broju dodaje još 10 besplatnih okretaja.
Jedna nova značajka je niz simbola koji se nalazi odmah iznad valjaka. Igrači znaju koji su simboli posebni jer će biti u boji na toj traci dok su ostali sivi. Sada, ono što Legacy of Dead daje jedinstveni preokret je to što se, kada se pokreću besplatni okretaji, u kombinaciju dodaje još jedan poseban simbol. Ovaj se proces može ponavljati iznova i iznova dok svih 9 simbola ne postane posebno i proširivo u isto vrijeme.
Zaključak
Definitivno je bilo pomiješanih emocija o Legacy of Dead. Prva reakcija je da se čini kao lijeno ponavljanje prethodnog slota. Ako ste već igrali prethodne Dead/Ra automate, imat ćete dobru predodžbu o tome u što se upuštate čak i prije nego što se Legacy of Dead učita – ne razočarava, ali ni ne oduševljava.
Book of Dead i Book of Ra imaju mnogo sljedbenika, pa je šteta što se Legacy of Dead trenutačno može pronaći samo u jednom kasinu. Isplati li se odbaciti sve samo da bi je igrali? Naravno da ne. Ali to ne umanjuje ono što je solidan, iako neoriginalan slot, s pristojnim potencijalom isplate. Na kraju dana, ljubitelji Book of Dead će sigurno uživati u Legacy of Dead. Radi sve što radi njegov prethodnik, ali nudi određenu raznolikost. Ako ste se ikada osjećali kao da je jedan simbol koji se proširuje tijekom besplatnih okretaja briljantna značajka, tada do 9 odjednom podiže to na potpuno novu razinu. Kao samostalna igra, Legacy of Dead je dobra, iako je u ukupnoj evoluciji automata pomalo zaboravljiva.