Zaigraj Secrets of Alchemy besplatno
Secrets of Alchemy
Ideja

Grafika

Audio

Bonus
Dobrodošli u svijet tajanstvene igre na automatima "Secrets of Alchemy"! Ova iznimna slot igra odvodi vas u doba starih alhemičara koji su težili pretvoriti sve u zlato. Sada imate priliku otkriti tajne alhemije i možda se dokopati vlastitog dijela blaga uz ovaj 5-bubanjski automat s 25 platnih linija.
"Secrets of Alchemy" je slot igra koju je razvio poznati pružatelj igara, EGT Interactive. Kao jedan od najuglednijih pružatelja igara u industriji, EGT Interactive je poznat po visokokvalitetnim i inovativnim slot igrama koje nude nevjerojatne grafike, zvukove i funkcionalnosti.
Metoda koja stoji iza ove slot igre je jednostavna. Baš kao i kod svakog uspješnog eksperimenta, trebat će vam promjenjivi sastojci, poput različitih iznosa uloga. "Secrets of Alchemy" vam nudi nekoliko vrijednosti uloga koje možete odabrati – 25, 50, 125, 250 i 500. Odaberite jednu od tih vrijednosti i vidite što se događa kada ih kombinirate s reaktivnim sastojcima koji se kriju u ovom slotu. Samo pritisnite gumb "Start" da biste pokrenuli okretanje ili koristite funkciju automatske reprodukcije za vožnju u autopilotu.
U ovoj tajanstvenoj igri susrest ćete ikonične simbole alhemije poput zlatnih ruža, čistih zlatnih šipki i velike kuharice s receptima alhemije. Tu su i nasumični muškarac i žena koji stoje kao svjedoci prošlih vremena. Postoje i posebne karte poput scatter simbola, prikazanog plutajućim otokom, i divlje karte, koju označava starac nalik magu koji oprezno drži bočicu opasnog izgledajućeg napitka. Očito su pravila zdravstvene i sigurnosne zaštite bila drugačija u vremenima "Secrets of Alchemy".
Ideja
Secrets of Alchemy je slot igra koja se bazira na mističnim i nikad istraženim moćima alkemije i alkemičara. Kao što znate alkemija je grana filozofije iz koje su se formirale kemija i farmakologija. Cilj alkemičara bio je da sintezom različitih materijala dođu do zlata, oni u svom pothvatu nikada nisu uspjeli, ali to ne znači da vi nećete moći . Upravo kroz ovu igru možete osvojiti brdo "zlata", a da bi do toga došli potrebna vam je sinteza pravih simbola na slotu. Uz široku paletu kombinacija kredita i kreditnih oklada koje možete izabrati, ovaj znanstveni tematski slot također je savršen za sve tipove slot igrača bez obzira volite li igrati za male uloge ili "na veliko".
Grafika
Ovo je tipična EGT igra i u smislu grafičkih rješenja oslanjali su se na već sigurnu kombinaciju koja im je donijela dobre rezultate. Svaki segment interfacea ove slot igre je detaljno i lijepo urađen. Igrači će u svakom trenutku imati kontrolu nad igrom i neće biti u situaciji gdje bi se mogli zbuniti zbog razbacanog ili nejasno definiranog rasporeda komandi. Svi simboli su odlično napravljeni i grafička rješenja za njihovu izradu su više nego dobra.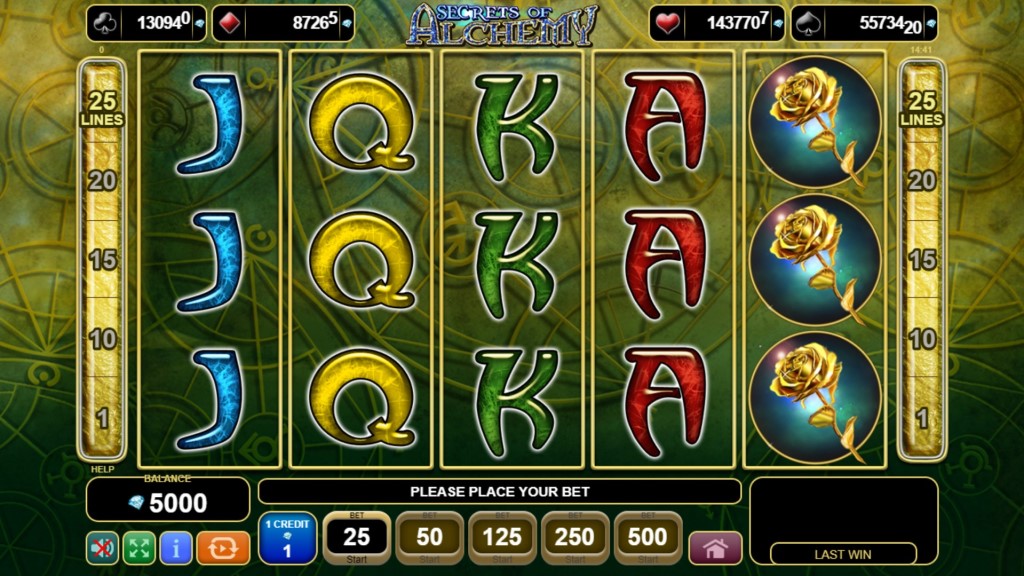 Audio
Secrets of Alchemy slot igru kao i većinu EGT slot igara prati karakterističan zvuk. Pri okretu slota čuje se jednoličan zvuk karakterističan upravo za okretanje slota. Ako dobijete pravu kombinaciju i ostvarite dobitak začuti ćete melodiju koja će biti duga onoliko koliko je velik vaš dobitak.
Bonus
Glavni alkemičar, najiskusnija osoba u alkemiji, u ovoj igri djeluje kao WILD simbol, na kolutovima 2, 3 i 4. Ovaj simbol djeluje i kao zamjena za druge simbole, a na taj način povećava vašu šansu za ostvarenjem dobitka. Scatter će se pojaviti na kolutovima 1, 2 i 3 i aktivirat će besplatne vrtnje kada dobijete najmanje 3 od tog simbola. Zahvaljujući tome osvojiti ćete 7 besplatnih vrtnji. Besplatne vrtnje biti će prepune misterije, a kada se ponovo pokrenu, misteriozni efekt će se nastaviti. Prilikom našeg testiranja igre u ovoj bonus opciji koja se pokrenula dobili smo čak 7000 kredita.
Zaključak za Secrets of Alchemy
Secrets of Alchemy je zanimljiva slot igra koja vam uz malo sreće može donijeti veliki dobitak. Laka je za igranje, pa je bez većih poteškoća mogu igrati i početnici. Ova igra posjeduje nekoliko vrlo zanimljivih bonus opcija koje, ako se aktiviraju, mogu učiniti da osvojite nemjerljivo više novca u odnosu na ono što ste uložili.