Zaigraj Scopa besplatno
Scopa
Ideja

Grafika

Audio

Bonus
Ideja
Scopa slot je prilično svjež naslov slot providera Habanero, predstavljen u lipnju 2020. Ideja za ovaj slot dobivena je iz talijanske kartaške igre istog naziva, a simboli u njoj imaju izgled inspiriran vremenom renesanse.
U pozadini kotača predstavljena je mapa Italije, kao i brojni predjeli ili znamenitosti. Tako su na primjer vidljivi rimski Koloseum ili planina Vezuv, zajedno s vlakom koji prolazi Italijom. Prikaz se kasnije mijenja, a scene prolaze polako u pozadini dok se slot vrti horizontalno s desne na lijevu stranu. Iako pomalo neobičnog prikaza, ovaj slot je prilično standardan kada je mehanizam dobivanja u pitanju jer je za dobitak potrebno da siboli kreiraju dobitnu kombinaciju.
Simboli uključuju vaze, bodež, znak sunca, kao i tri ljudska karaktera. Svaki od njih se pojavljuje na kartama, a simbol i ime dolaze upravo iz tradicionalne kartaške igre koja je u Italiji popularna od 18. stoljeća. To su simboli plemića, viteza i kralja. Osim spomenutih, Scopa ima i Wild i Scatter simbole. Wild je roza zastava koja može zamijeniti bilo koji drugi simbol, a Scatter je simbol vlaka i simbol zlatnog sunca.
Grafika
Scopa nudi vrlo zanimljivo vizualno iskustvo jer se Habanero zaista potrudio i obogatio ovaj slot sjajnom grafikom koja u potpunosti igračima stavlja do znanja da igraju slot koji je toliko inspiriran Italijom, iako je kartaška igra Scopa popularna i u Južnoj Americi, točnije u Brazilu i Argentini.
Osim odlične grafike, slot ima i odličnu animaciju, dok su ljudski likovi kod tri simbola u samom slotu prikazani u stilu koji pomalo podsjeća na crtane filmove, ali ne u previše neozbiljnom tonu, pa je ukupan efekt i više nego zadovoljavajući. Zahvaljujući dobrom izboru grafičkih rješenja, izgled Scope jedan je od njenih velikih aduta u privlačenju igrača koji znaju cijeniti dobro osmišljen slot i njima će ovo biti posebno ugodno iskustvo.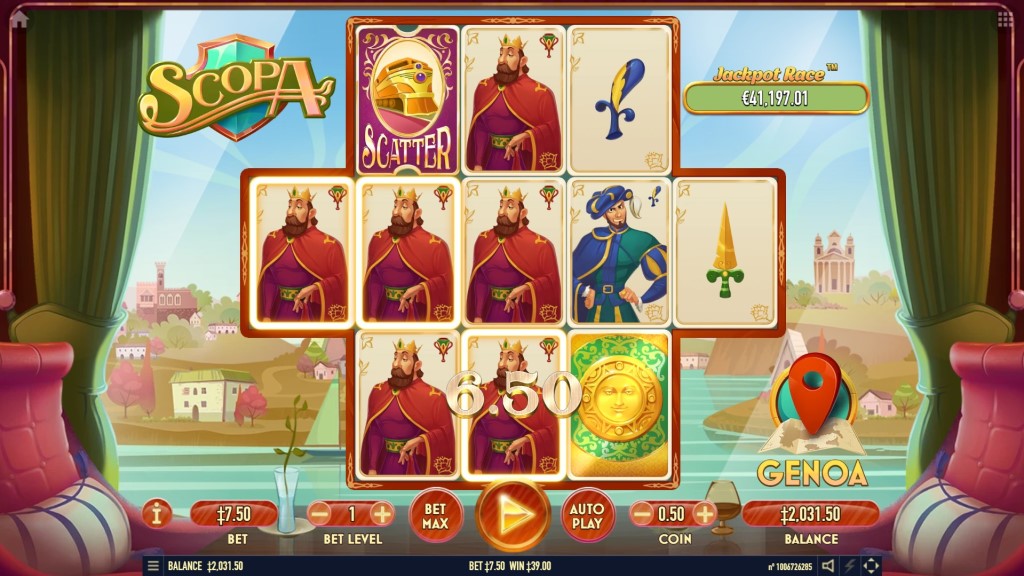 Audio
S obzirom na ton cjelokupnog slota, odnosno korištenje talijanske kartaške igre kao inspiracije, audio je također osmišljen po istom principu. Ako se odluče na ovaj slot, igrači će moći slušati laganu glazbu u talijanskom stilu koja neće zvučati naporno čak i nakon nekoliko ponavljanja.
Prilikom ostvarivanja određenog dobitka glazba se mijenja, točnije karakterističan zvuk povišenog tona koji označava da je igrač uspio napraviti dobitnu kombinaciju.
Bonus
Scopa ima nekoliko mogućnosti kada su u pitanju bonusi. Postoji takozvana Scopa isplata kada su svi simboli na ekranu dio dobitne kombinacije, što igra nagrađuje s dodatnom sumom uvećanom 25 puta.
Scatter simboli aktiviraju 13 besplatnih vrtnji kada se tri pojave u sredini tri reda. Svako igranje besplatne vrtnje igrača vodi u novi grad, a radi se Genovi, Milanu, Napulju, Toskani i Veneciji. Bonus počinje u Genovi koja nudi x1, x2 i x3 udvostručavanje dobitka sa Wild simbolima. U Milanu Wild simboli su prošireni u redovima, dok u Napulju svaki Wild simbol koji igrač dobije pretvara druge simbole u Wild simbole.
U Toskani simboli niže vrijednosti se pretvaraju u Wild simbole, dok tijekom igranja u Veneciji igrač može dobiti Wild simbol u svakoj od 13 besplatnih vrtnji u redovima jedan, dva, tri i četiri tijekom osnovne igre, kao i dva Wild simbola tijekom igranja bonus besplatnih vrtnji. Svaku od lokacija igrač može promijeniti pritiskom na gumb na dnu desne strane.
Zaključak za Scopa slot
Za ljubitelje Italije ovo je slot koji jednostavno moraju odigrati. Ima veliki izbor potencijalnih oklada koje će odgovarati doslovno svakom igraču neovisno o tome koliko je spreman uložiti, a Scopa se može igrati i besplatno na nekim stranicama kako bi igrači mogli steći pravi dojam o njoj, a da ih to ništa ne košta.
Sa svojim odličnim izgledom i atraktivnim stilom prikaza uz ugodnu glazbu koja neće dosađivati igračima i odvlačiti im pažnju, Scopa je definitivno slot kojem će se igrači rado vraćati.