Zaigraj Book del Sol: Multiplier besplatno
Book del Sol: Multiplier
Ideja

Grafika

Audio

Bonus
Playson je jedan od najiskusnijih razvojnih studija u industriji, iako se može reći da nikada nisu bili među najinovativnijima. No, to nije veliki problem, srećom, i uvijek smo spremni istražiti nove slot igre koje je Playson kreirao. S igrom Book del Sol: Multiplier, dobivamo klasičan slot inspiriran "Knjigom" sa svim elementima koje taj žanr podrazumijeva. To uključuje standardno igralište s 5 valjaka, 3 reda i 10 dobitnih linija.
Tema igre Book del Sol: Multiplier nas vraća u doba kada su Asteci još uvijek bili moćna civilizacija. Već smo posjetili taj period nekoliko puta, ali ovaj put je produkcija iznadprosječna, pa se zaista nemamo što žaliti. Simboli su prekrasni, a vizuali su pažljivo oslikani, što zaslužuje mnogo pohvala za dizajnere!
Razina varijabilnosti igre Book del Sol: Multiplier je visoka, što znači da morate biti spremni na značajne promjene. Istovremeno, frekvencija dobitaka iznosi 31,22%, tako da stvari nisu previše oštre. Raspon uloga u slot igri kreće se od £0.20, dok su visoki ulagači u mogućnosti povećati ulog do £100 ako žele. Teoretski RTP (povrat igraču) igre Book del Sol: Multiplier iznosi 95,94%, što je samo malo ispod prosjeka.
Ako ste ikada željeli postati istraživač poput Indiane Jonesa, onda možete stvarno testirati ovaj automat na stranici Germaniasport.hr
Kako igrati Book del Sol: Multiplier Slot?
Stavite svoje oklade i krenimo u Srednju Ameriku i posjetimo područje današnjeg Meksika.
Ulog +/- omogućit će vam da manipulirate veličinom vašeg uloga i da ga povećate ili smanjite.
Spin je tu da pokrene valjke nakon što su oklade odabrane.
A je Autoplay i možete ga koristiti za postavljanje koluta koji se automatski okreću, odabrani broj puta, bez ikakvih prekida.
Thunder On/Off će uključiti ili isključiti brže kretanje koluta.
Bonus će vam omogućiti da kupite svoj put do bonus značajke.
Simboli
U igri Book del Sol: Multiplier postoje 9 simbola za dobitak, od kojih su 5 niskih vrijednosti simboli karata, a 4 su tematski simboli visokih vrijednosti. Simboli niskih vrijednosti prikazuju karte od Desetki do Asova i isplaćuju do 10 puta vaše uloge za pet identičnih simbola. Simboli visokih vrijednosti su mnogo privlačniji, jer uključuju životinjske maske, šamanske maske, jaguare i konkvistadore. Važno je napomenuti da simboli visokih vrijednosti isplaćuju čak i za skup od dva identična simbola, što je djelomično razlog visoke frekvencije dobitaka. U svakom slučaju, konkvistadori su najvrijedniji simboli, jer skup od pet simbola konkvistadora donosi isplatu od 200 puta uloga.
Kao što biste očekivali, simboli knjiga su posebni simboli u igri Book del Sol: Multiplier. Oni djeluju kao Wild simboli i Scatter simboli, što znači da zamjenjuju druge simbole i pokreću funkciju Besplatnih okretaja.
Značajke Slota
Zlatna knjiga je Scatter simbol koji može zamijeniti sve ostale simbole u igri i pomoći u formiranju dobitnih kombinacija. Jedini simboli koje ne može zamijeniti su Sunce i posebni simboli koji se prošire po mreži. Ako dobijete 3 ili više Scatter simbola, pokrenut ćete značajku besplatnih okretaja.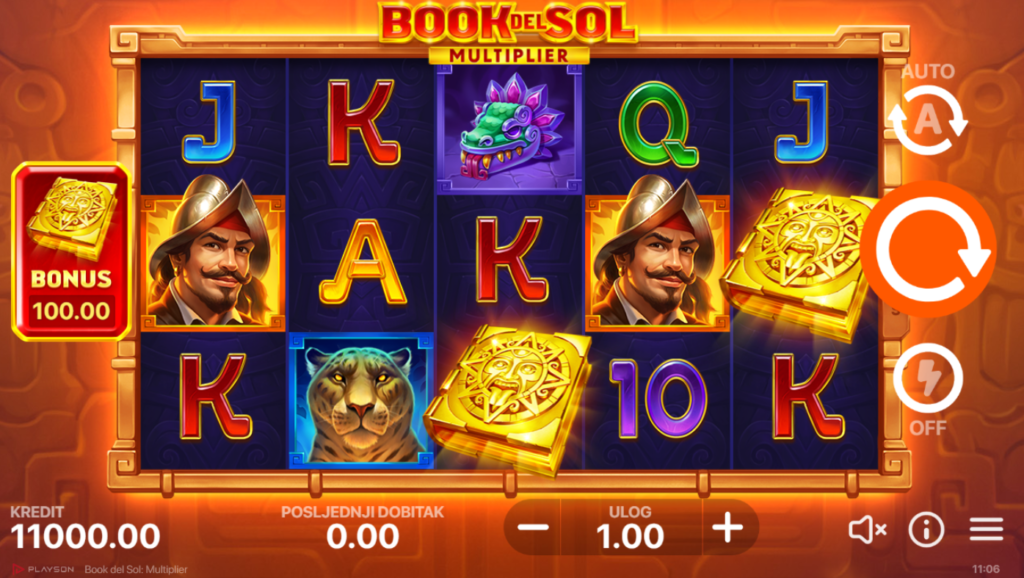 Besplatne vrtnje
Nakon što se pokrene značajka besplatnih okretaja, dobit ćete 10 okretaja, a ako dobijete dodatna 3 ili više Scatter simbola tijekom značajke, ponovno ćete aktivirati značajku i dobiti dodatnih 10 okretaja. Prije pokretanja značajke besplatnih okretaja, dobit ćete nasumično odabrani specijalni proširivi simbol. Ti simboli se mogu proširiti da prekriju cijele valjke i čak donose dobitke u kombinacijama koje nisu potpuno susjedne, što je dokazana koncepcija u ovakvim igrama. Može se odabrati bilo koji simbol osim simbola Scatter i Sunca.
Osim toga, značajka dolazi opremljena progresivnim množiteljem koji se povećava od početnog x1 preko x2, x3 dok konačno ne dosegne maksimalno x5. Način na koji se množitelj povećava je skupljanje simbola Sunca.
Igrači koji ne žele čekati na simbole knjiga također mogu iskoristiti značajku Kupi bonus. To će ih koštati 100 puta uloga, ali odmah će pokrenuti funkciju Besplatnih okretaja!
Zaključak
Book del Sol: Multiplier je još jedan dodatak Playson portfelju koji je kreiran u stilu 'Book of' i kao takav izgleda isto kao bilo koji drugi automat ove vrste gdje imate simbol koji se širi u bonus rundi. Međutim, nismo bili razočarani jer je maksimalna izloženost x12333 ukupne oklade, a volatilnost je uistinu visoka. Ako ste ikada željeli postati konkvistador, ovaj automat će vam pomoći da osvojite asteško nasljeđe.