Zaigraj Candy Palace besplatno
Candy Palace
Ideja

Grafika

Audio

Bonus
Candy Palace na tržištu se pojavila 21.6.2022. što je čini relativno novom casino igrom. Ako ste ikada probali slatkiše, torte, kekse, karamele, čokolade ili nugate, vjerojatno ste jedan od onih koji vole slatko. EGT vas vodi u svijet poslastica sa svojim najboljom online casino igrom Candy Palace.
S više od 15 godina iskustva u dizajniranju zemaljskih i virtualnih automata, EGT je programer s dokazanim iskustvom. Njegova je misija dizajnirati napredne mogućnosti zabave, a ovaj je pružatelj brzo rastao od svog početka zahvaljujući pristupu usmjerenom na korisnika, prvorazrednoj podršci i stalnim inovacijama. Na primjer, 2021. EGT je svojim partnerima na raspolaganje stavio automate za igre na sreću kao što su Casino Mania, Raise of Ra, Secrets of Sherwood i mnoge druge. 2022. također se nazire kao vrlo uzbudljiva jer je EGT dodao mnoge značajke svojim novim produkcijama, kao što pokazuje online casino igra Candy Palace.
Uđite u Palaču slatkiša
Svatko se katkad zaželi slatkoga, a u tim trenutcima optimalna količina slatkiša je što je više moguće. Ako i vi, poput nas, žudite za ukusnim sladoledima, kolačima i bombonima, onda je Amusenetov potpuno novi automat, Candy Palace, prava igra za vas.
Kako biste utažili svoju potrebu za slatkim, trebate uzeti svoje računalo ili mobilni uređaj spojen na internet i zaigrati besplatni automat Candy Palace. Morat ćete zavrtjeti 6 valjaka ovog naslova, u koji se programer EGT pobrinuo ugraditi Cluster Pays sustav. To povećava vaše šanse za osvajanje jackpota koji je 1000 puta veći od iznosa vašeg početnog uloga.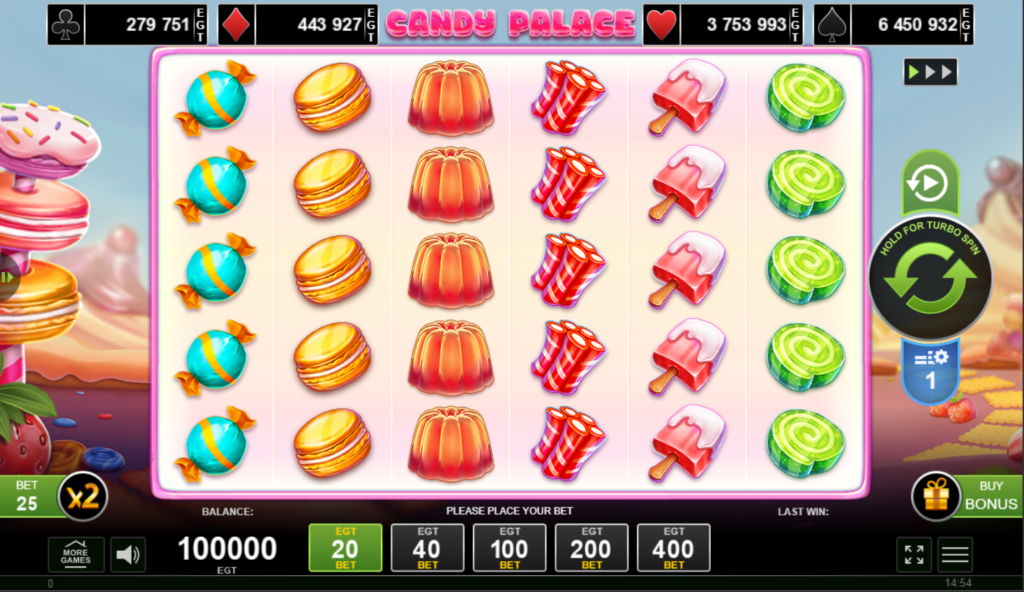 Kako igrati
Candy Palace predstavlja vam 6 valjaka i 5 redaka na kojima možete pronaći simbole poput bombona, želea, kolača te sladoleda. U ovoj igri nema tradicionalnih isplatnih linija; umjesto toga, pobjede u skupinama jedini su način za pobjedu. Morate poredati najmanje 8 simbola u nizu kako biste pobijedili.
Minimalan ulog je 20, a maksimalan je 400. Možete postaviti i autoplay kako biste bezbrižno igrali za ulog koji odredite na početku.
Candy Palace demo također uključuje progresivni jackpot i uzbudljive dodatne vrtnje te Scatter simbole koji ne samo da imaju vizualne efekte nego vas također nagrađuju dugo očekivanim nagradama. Razmislite o čitanju ove recenzije kako biste saznali kako ih aktivirati, odnosno kako uplatiti depozit i koji bonus izabrati za najbolje isplate.
Scatter simbol – ukusan komad torte koji, osim što izgleda ukusno, donosi bonus vrtnje. Ako dobijete četiri ili više Scatter simbola bilo gdje na valjcima, započet ćete bonus krug besplatnih vrtnji. Osim toga, ako ih dobijete tri ili više tijekom besplatnih okretaja, dobit ćete 6 dodatnih okretaja. Samostalno se isplati 3x za četiri, 5x za pet i 100x za šest.
Besplatne vrtnje – ako ste dobili četiri ili više scatter simbola, igra će započeti bonus rundu s dvanaest besplatnih vrtnji. Štoviše, možete dobiti šest više svaki put kada dobijete tri ili više scatter simbola tijekom bonus runde. U besplatnim vrtnjama nema previše razlika u odnosu na uobičajenu igru osim što se pojave simboli množitelja koji postaju aktivni tijekom besplatnih vrtnji.
Duple šanse – Ako želite udvostručiti svoje šanse za dobivanje besplatnih vrtnji, možete upotrijebiti značajku Double chance. To će povećati vaš ulog za 1.25x.
Bonus kupnja – Značajka pomoću koje možete kupiti besplatne vrtnje za 80x većeg početnog uloga no preporučujemo da budete oprezni pri korištenju ove značajke jer je poprilično skupa.
Opcija "Gamble" – Kad god ostvarite dobitak, možete iskoristiti priliku da ga povećate pomoću značajke "Gamble". Kako biste ju aktivirali, pritisnite opciju x2 iznad gumba Spin. S njim možete udvostručiti svoju posljednju pobjedu. Morat ćete odabrati jednu od dvije karte – crna ili crvena. Ako pogodite, dobitak će vam se udvostručiti, ali ako pogriješite, izgubit ćete sve. Tu opciju možete odabrati do 4 puta, a ova značajka nije dostupna samo nakon regularne igre, već i nakon bonus runde besplatnih vrtnji.
Jackpot – možete osvojiti putem bonus runde Jackpot Cards. Može se pokrenuti nasumično nakon bilo kojeg redovnog okretaja i bit će vam prikazano 12 karata. Morat ćete birati karte dok ne pogodite tri iz iste boje – gdje svaka boja odgovara određenoj razini jackpota, pri čemu je dijamant najniži, a srce najveći.
Maksimalan dobitak u Candy Palace-u je 1000x od vašeg uloga.
Tema i dizajn
Kao što samo ime automata govori, ovaj automat nudi razne slatkiše, kolače, sladoled i druge poslastice. Vizualni elementi su lijepo konstruirani i imaju ugodnu vizualnu privlačnost, sa šarenim i lijepim simbolima zbog kojih ćete ih poželjeti pojesti. Nema mnogo dodatnih iritantnih animacija, a tu su i drugi slatki deserti u pozadini koji su lijepo prikazani u toplim nijansama. Čini se da je igra prilično jednostavna za igrati, a tako i je! Kao što ćete otkriti, imat ćete isto iskustvo igranja bilo da koristite računalo, tablet ili mobilni uređaj.
Zaključak – prednosti i nedostatci
Prednost ove igre je definitivno šarena tema, dodatne vrtnje te svakako mogućnost osvajanja Jackpota. Kao nedostatke možemo navesti to što u igri nema wild simbola, koji uvelike pomažu u osvajanju velikih dobitaka. Nadalje u igri je vrlo nizak maksimalan dobitak te ima samo 5 mogućih veličina uloga, a to su 20, 40, 100, 200 i 400.
Možemo zaključiti kako su šarena tema i glatko igranje dobitna kombinacija. Vrlo je opuštajuće gledati nizanje simbola, a bonus značajke su uzbudljive. Iako je stvarna šansa za osvajanjem Jackpota priliko niska, mogućnost uvijek postoji i nema ništa loše u sanjanju o milijunskom dobitku.