Zaigraj Burning Hot 6 Reels besplatno
Burning Hot 6 Reels
Ideja

Grafika

Audio

Bonus
Burning Hot 6 Reels samo je jedan od nekoliko automata koje je EGT objavio u posljednje vrijeme, a koji imaju zajedničku temu i uglavnom različite linije i kolute. S 5, 20 ili 40 linija, te s 5 ili 6 valjaka, čini se da žele što je moguće više mijenjati igranost, dok koriste istu osnovnu grafiku, uvijek iznova. Ne pomaže ni to što je dotična grafika posuđena iz klasičnog voća, pa je već nevjerojatno česta u automatima. Na stranu izgled igre i zajednička tema, da vidimo što još dobivamo od ovog automata.
Prije svega, kao što nam naslov govori, ovo je automat sa 6 valjaka. Nudi nam samo 5 aktivnih linija, što je prilično malo, ali još uvijek uspijeva ponuditi do 3000x veći ulog kao najveće isplate. Za njegove značajke implementirali su Wild simbol djeteline s četiri lista, Scatter simbol zvijezde i dolara .
Klađenje i nagrade
Postoje dvije komponente s kojima morate igrati kada odlučujete o iznosu koji će činiti vaš ulog za sljedeće vrtnje. Vrijednost kredita je jedan od njih, a broj kovanica je drugi. Imate određene oklade na novčiće kao dio pet različitih gumba Spin, koji se nalaze u sredini, u donjem redu. Čim kliknete, ulog je postavljen i vrtnja počinje, stoga pazite da greškom ne kliknete na visoku. Oklade su na 10, 20, 50, 100 ili 200 novčića.
Dobivate vrlo dobre vrhunske isplate od Burning Hot 6 Reels, s najvećim prinosima koji dolaze od simbola sretne sedmice. Njegove kombinacije, do 6 simbola, isplatit će čak 600x ulog na svakoj liniji ili 3000x ulog ako su sve linije u isto vrijeme pokrivene tim simbolima.
Tu su i progresivni jackpotovi igre, koje vidite spomenute na vrhu zaslona, u četiri različita područja prikaza, a svako ima drugu boju karte.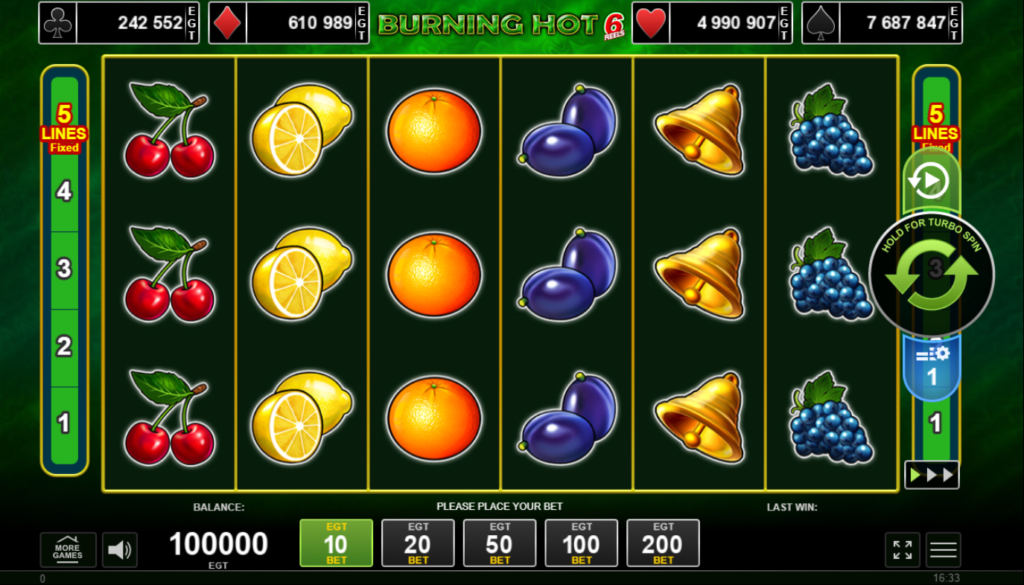 Značajke igre Burning Hot 6 Reels
Kada dođemo do stvarnih značajki koje su implementirane u Burning Hot 6 Reels, nalazimo vrlo uobičajenu kombinaciju, koja započinje s Wild simbolom djeteline s četiri lista. Ovo je zamjena, što znači da se može kombinirati s bilo kojim uobičajenim simbolom za stvaranje novih dobitnih kombinacija. Povrh toga, ovaj simbol također ima mogućnost proširivanja, tako da na kraju može pokriti sve pozicije na valjku. Naći ćete samo simbol djeteline na srednja četiri valjka, tako da sam po sebi neće isplatiti ništa.
Oba druga dva značajna simbola su Scatter simboli i trebaju se koristiti prilikom pokretanja određenih novčanih nagrada.
Znak dolara pojavljuje se na svih šest valjaka, donoseći dobitke od 2x do 500x uloga, za dva do šest prikazanih simbola.
Ljubičasta zvijezda prisutna je samo na srednja četiri stupca, a ako dobijete tri ili četiri od njih, dobit ćete 10x odnosno 200x veći ulog.
Tema i dizajn
Gledate vrlo jednostavnu temu, s klasičnim simbolima koji uključuju obilje voća, zajedno s drugim poznatim simbolima. Kvaliteta dizajna je također prilično niska, stoga nemojte očekivati moderno izdanje. Značajni simboli uključuju djetelinu, znak dolara i ljubičastu zvijezdu. Uobičajeni simboli daju nam sretnu sedmicu, grožđe, dinju, zvono, trešnju, limun, šljive i naranče.
Zaključak
Burning Hot 6 Reels neobičan je automat za igre na sreću, barem za klasičnu kategoriju video automata kojoj pripada, ali vam neće ponuditi ništa istinski iznenađujuće. To bi moglo funkcionirati za ljubitelje starina, ali moderni igrači danas imaju bolje mogućnosti izbora.