Zaigraj Book of Ra besplatno
Book of Ra
Ideja

Grafika

Audio

Bonus
Book of Ra najbolji je izbor za početnike. Preko nje ćete ući u svijet slot igara i naučiti sve što je potrebno.
Ideja
Slot igra s egipatskom mitologijom u svojoj osnovi nosi naziv koji jasno sugerira tematiku. Ova igra se usredotočuje na svijet drevnog Egipta, a simboli koji se koriste u igri odražavaju priče i motive koje često susrećemo u tim pričama. Među tim simbolima nalazi se skarabej, sveta buba koja je uklesana na zlatnoj poluzi, kao i slova A, K, Q i J te broj 10. Također, tu je i lik Indiana Jonesa, sarkofag faraona te sama knjiga Boga Ra.
Ova igra je lansirana još 2005. godine i zasluženo se smatra jednom od najigranijih slot igara svih vremena. Tema egipatske mitologije privlači mnoge igrače svojim misterioznim i egzotičnim elementima. Kombinacija simbola, likova i priča iz drevnog Egipta stvara autentičnu atmosferu koja očarava igrače.
Ukupno gledajući, slot igra temeljena na egipatskoj mitologiji pruža izuzetno zanimljivo iskustvo. Njeni simboli i tema prenose nas u svijet drevnog Egipta, gdje se susrećemo s bogatstvom i tajnama koje se kriju unutar piramida. Igra, koja je stekla iznimnu popularnost, nudi igračima uzbudljivu avanturu ispunjenu misterijama i mogućnostima za ostvarivanje velikih dobitaka.
Grafika
Grafika u ovoj igri nije iznimno impresivna, ali je dovoljno efektna da privuče pažnju svakog igrača. Ona je prilično jednostavna i prikazuje se u 2D formatu. Simboli koji se pojavljuju u igri su jednostavni, s vrlo malim razlikama u nijansama.
Iako grafika nije vrhunski detaljna ili realistična, uspješno prenosi atmosferu drevnog Egipta. Simboli poput skarabeja, knjige Boga Ra i sarkofaga faraona jasno su prepoznatljivi i doprinose tematskom dojmu igre.
Unatoč svojoj jednostavnosti, grafika igre i dalje uspijeva zaokupiti pažnju igrača i prenijeti osnovnu estetiku egipatske teme. Uz kombinaciju simbola i adekvatno postavljenih elemenata na zaslonu, grafika igre stvara dovoljno privlačan vizualni dojam da igrači uživaju u igri i istražuju drevni Egipt.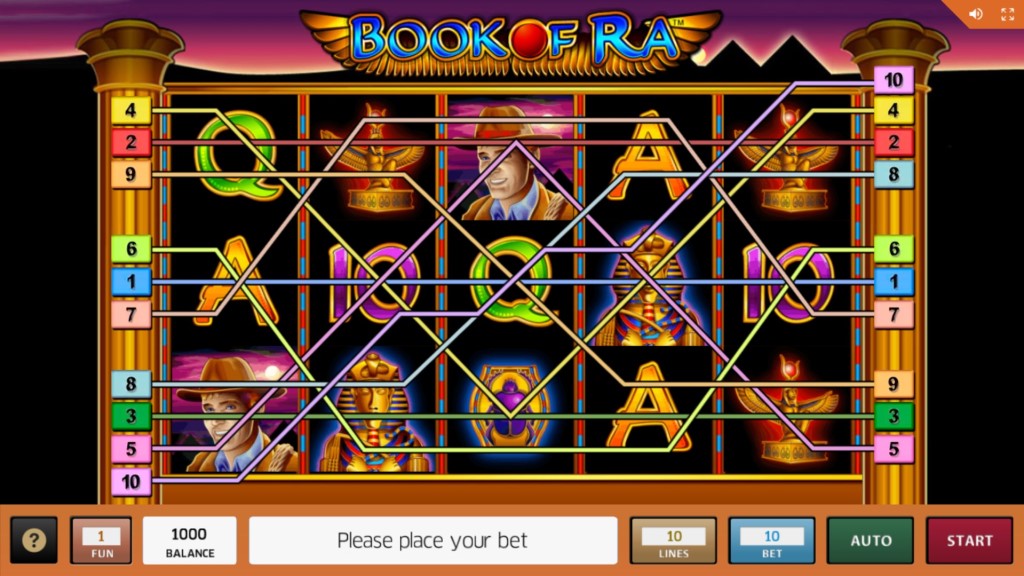 Audio
Zvukovi u ovoj igri, moramo priznati, nisu posebno impresivni. Nakon duljeg igranja, mogu postati čak i iritantni. Okretanje slota prati zvuk koji je karakterističan za period s kraja 20. i početka 21. stoljeća, pa će vjerojatno privući one koji vole igre s retro stilom.
Iako zvukovi nisu naročito zadivljujući, oni doprinose autentičnosti igre. Zvuk okretanja slota može podsjećati na klasične slot igre iz prošlosti te pružiti dozu nostalgije ljubiteljima retro štiha. Međutim, ako igrate duže vrijeme, ti zvukovi mogu postati ponavljajući i manje ugodni za uho.
Bonus
Ova starija vrsta slot igre nema mnogo značajnih bonus opcija. Kada ostvarite dobitnu kombinaciju, imate mogućnost udvostručenja osvojenog iznosa. Igra vam pruža opciju da "pokupite" novac ili "riskirate" dalje. Ako se odlučite za rizik, trebat ćete odabrati boju sljedeće karte – crvenu ili crnu. Ako točno pogodite, udvostručit ćete svoj dobitak i bit ćete ponovno pozvani da odaberete kartu i ponovno udvostručite iznos (najviše pet puta zaredom). Međutim, ako pogriješite, izgubit ćete sve što ste prethodno osvojili.
Ova opcija udvostručenja pruža vam mogućnost da povećate svoje dobitke, ali također nosi i određeni rizik. Važno je napomenuti da je odabir rizika dobrovoljan, pa uvijek možete odlučiti "pokupiti" osvojeni iznos i zadržati ga.
Iako igra nema mnogo drugih bonus opcija, opcija udvostručenja pruža vam dodatno uzbuđenje i priliku za veće dobitke. Važno je donijeti pametne odluke i procijeniti rizike prije nego što se odlučite za nastavak rizika.
Zaključak
Book of Ra je slot igra koju s veseljem preporučujemo početnicima. Igra je jednostavna za korištenje i ne posjeduje mnogo dodatnih opcija, što je idealno za one koji tek ulaze u svijet slot igara.
Jednostavnost ove igre omogućuje lakoću snalaženja i intuitivno igranje. Nema kompliciranih bonus rundi ili složenih funkcija koje bi mogle zbuniti nove igrače. Umjesto toga, Book of Ra nudi osnovno, ali uzbudljivo iskustvo igranja slot igara.
Iako nema mnogo dodatnih opcija, ova igra je dovoljno zanimljiva da vam pruži ugodno iskustvo igranja. Uz svoj prepoznatljivi egipatski tematski dizajn i mogućnost udvostručenja dobitka, Book of Ra ima dovoljno elemenata za držanje pažnje i mogućnost osvajanja lijepih nagrada.