Zaigraj Book of Dead besplatno
Book of Dead
Ideja

Grafika

Audio

Bonus
Book of Dead je do sada najbolja slot igra koju smo isprobali. Ima sve komponente moderne slot igre koja će vas dobro zabaviti i koja će vam pružiti najveću šansu da ostvarite dobitak.
Ideja
Ova slot igra razvijena je od strane Play'n GO još 2014. godine, a tematika je staroegipatska mitologija. Neki je smatraju replikom igre Book of Ra no sve i da je tako, ovo je super moćna verzija te igre. Istina je da su ove dvije igre slične, od tematike do izgleda, pa čak i samog imena. Međutim, Book of Dead slot igra je puno bolja, ne samo od gore spomenute igre, već i od mnogih drugih.
Igra je veoma jednostavna i bazirana je na temelju po kojem funkcioniraju sve moderne slot igre. Svaki put kada okrenete slot imate šansu dobiti 5000 puta više od onoga što ste uložili.
Slot igra sadrži simbole karata (od 10-ke do Asa), Faraonovu masku, Anubis, istraživača Richa Wilda i "knjigu mrtvih".
Grafika
Grafika u igri Book of Dead je gotovo savršena. Teško je naći zamjerku u sučelju, simbolima i cjelokupnom dizajnu ove igre. Play'n GO je odradio izvanredan posao u stvaranju ove slot igre. Već na prvi pogled, primjećuje se da su posvetili veliku pažnju izradi svih aspekata igre, čime su nadmašili konkurenciju.
Interface ove igre je vrlo privlačan i jednostavan za korištenje. Svi simboli su pažljivo izrađeni i imaju visoku razinu detalja. Egipatska tema je izražena kroz prepoznatljive simbole poput faraona, Anubisa, Izide i knjige mrtvih. Pozadinska glazba i zvučni efekti dodatno doprinose atmosferi igre, stvarajući ugodan dojam i dodatno uranjanje igrača u svijet drevnog Egipta.
Play'n GO je pokazao visoku razinu vještine u kreiranju vizualnog identiteta igre, što je rezultiralo nevjerojatno atraktivnim dizajnom. Svaki detalj je pomno osmišljen, pružajući igračima jedinstveno iskustvo i oduševljenje dok istražuju drevne tajne i jure za dobitkom.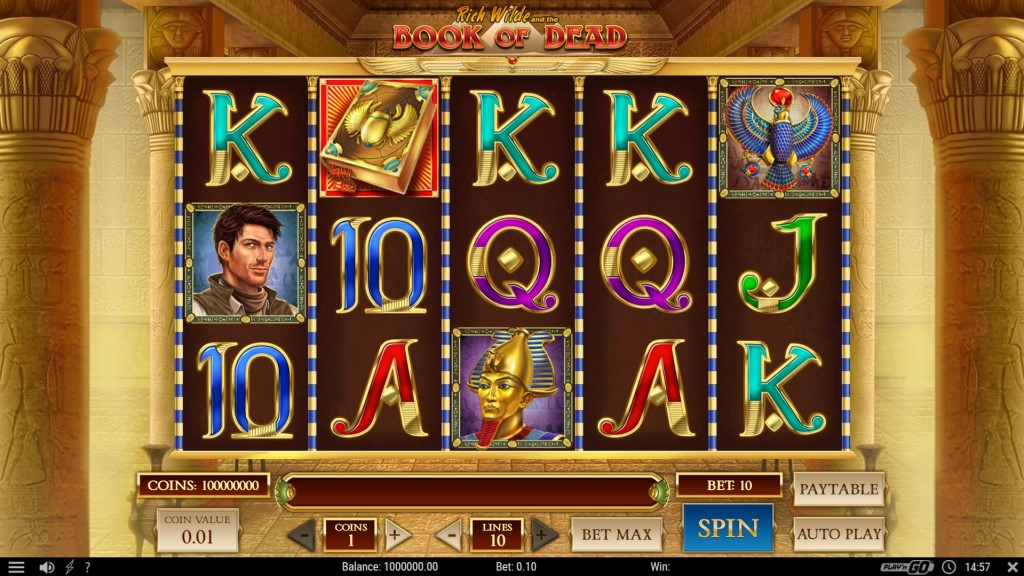 Audio
Zvučni efekti u igri Book of Dead su zaista impresivni i daleko nadmašuju konkurenciju. Dok većina slot igara koristi "retro" zvukove i kratke monotone melodije koje ponekad mogu biti iritantne, ova igra se ističe po svojoj zvučnoj kvaliteti.
U pozadini igre se čuje vrlo zanimljiva i atmosferična melodija koja dodatno doprinosi ugođaju i uzbuđenju prilikom igranja. Ona stvara dojam tajanstvenosti i avanture, savršeno se uklapajući u egipatsku tematiku igre.
Zvuci koji se čuju prilikom okretanja slota također su pažljivo osmišljeni i zanimljivi. Svaki okret koluta prati uzbudljiv zvuk koji dodatno pojačava doživljaj igre. Ti zvuci su dovoljno upečatljivi da održe pažnju igrača i stvore dozu uzbuđenja.
Bonus
Book of Dead ne bi bila to što je – jedna od najboljih slot igara da ne nudi i dobre bonuse. Opcija "besplatne vrtnje" je najpopularnija među igračima slota, a u ovoj igri se dosta često dobiva.
"Prošireni simbol" je dodatna funkcija koju možete dobiti tijekom okretanja besplatnih vrtnji. Kada dobijete besplatne vrtnje jedan od simbola se bira nasumično za svaku vrtnju. Kada se zaustavi na traci on prekriva sve ostale simbole. Ako budete imali sreće može pokriti svih pet redova što bi vam donijelo 250 000 novčića.
Pri svakom dobitku igra će vam ponuditi mogućnost da udvostručite ili učetverostručite dobiveno. Možete birati hoće li sljedeća karta biti crvena ili crna. Ako želite veći rizik, ali i veću nagradu za pogodak možete pogađati točan simbol sljedeće karte.
Zaključak za Book of Dead
Book of Dead je, bez ikakve sumnje, najbolja slot igra koju smo do sada isprobali. Ova igra ima sve što jedan igrač može poželjeti. Počevši od sjajno zamišljene ideje, preko izvrsne grafike i zvuka, pa sve do nevjerojatnih bonusa. Dodatno, povrat igrača (RTP) u ovoj igri prelazi 96%, što je iznad prosjeka i rijetkost je susresti takvu vrijednost.
Jedna od ključnih stvari koja izdvaja Book of Dead je odlično osmišljena ideja igre koja se temelji na egipatskoj mitologiji. Simboli, likovi i atmosfera igre dočaravaju tajanstveni svijet drevnog Egipta na iznimno autentičan način.
Grafika u igri je impresivna i daleko nadmašuje ostale slot igre. Svaki detalj je pažljivo osmišljen, a simboli su prepoznatljivi i privlačni. Zvukovi su također vrhunske kvalitete, stvarajući ugodno iskustvo igre i dodatno uranjanje u temu.
Najznačajnije od svega su bonusi u igri, koji su zaista izvanredni. Book of Dead nudi mogućnost osvajanja besplatnih okretanja i proširujućeg simbola koji može donijeti velike dobitke. Ovi bonusi pružaju dodatno uzbuđenje i povećavaju šanse za ostvarivanje visokih dobitaka.