Zaigraj Tome of Madness besplatno
Tome of Madness
Ideja

Grafika

Audio

Bonus
Tome of Madness jedna je u nizu popularnih igara tvrtke Play'N GO u kojoj je glavni lik dobro poznati Rich Wilde kojeg možemo pronaći u velikom broju njihovih igara. Tome of Madness temelji se na još jednoj pustolovini neustrašivog istraživača koji kreće u epsku potragu za otkrivanjem tajni zlokobnog Kulta Cthulhua. Malo tko zna da se ova radnja zapravo temelji na jednom od djela H.P. Lovecrafta, američkog pisca horora, fantazije i znanstvene fantastike!
Izgled
Tome of Madness je slot igra čiji izgled se razlikuje od većine klasičnih slot igara. Umjesto uobičajenih pet valjaka, ova igra ima pet redova i pet stupaca, stvarajući mrežu sa 25 polja za simbole. Ova nekonvencionalna postavka dodaje originalnost i svježinu igri, ističući je iz mnoštva drugih slot igara.
Simboli u igri su također jedinstveni i pružaju uzbudljivu vizualnu raznolikost. Postoji ukupno osam standardnih simbola u igri. Četiri od njih predstavljaju dragulje različitih boja – zeleni, plavi, rozi i crveni. Ovi simboli donose različite isplate ovisno o njihovoj vrijednosti i broju pojavljivanja na dobitnoj liniji.
Ostali simboli u igri uključuju lubanju, prsten, bodež i zlatni privjesak. Ovi simboli doprinose tematskom elementu igre, pružajući intrigantne motive i dodatno produbljujući atmosferu avanture i misterija.
Wild simboli u igri su predstavljeni knjigom, likom Richa Wildea i hobotnicom. Ovi Wild simboli imaju posebne funkcije koje mogu pomoći igračima u stvaranju dobitnih kombinacija i ostvarivanju većih isplata.
Izgled Tome of Madness igre je privlačan i originalan, s pet redova i pet stupaca te jedinstvenim simbolima koji pružaju raznolikost i zanimljivost. Ova nekonvencionalna postavka i vizualni dizajn doprinose izuzetnom doživljaju igre, donoseći svježinu i uzbuđenje igračima koji traže nešto drugačije od klasičnih slot igara.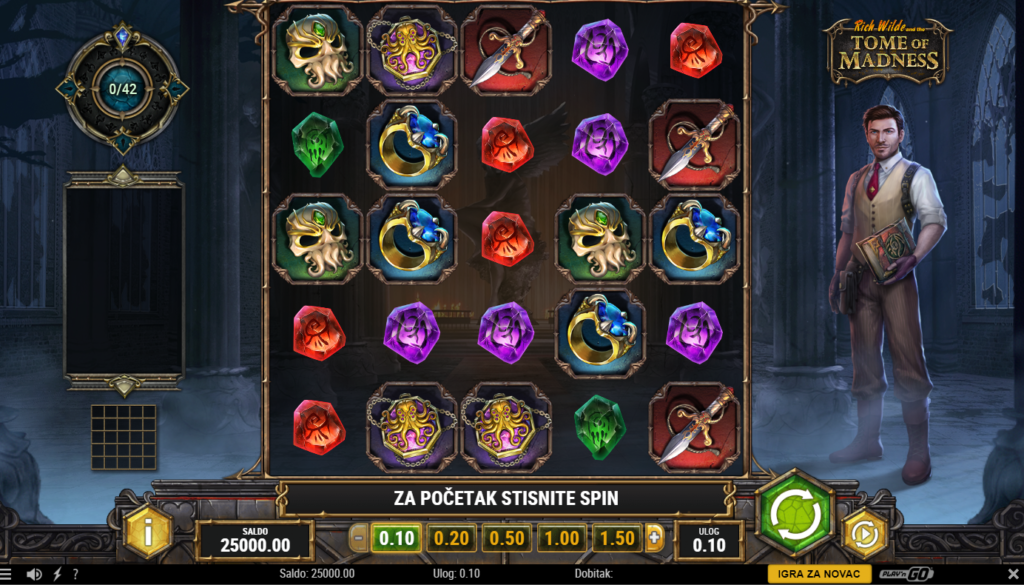 Pravila igre Tome of Madness
U igri Tome of Madness, igrač osvaja dobitak ukoliko uspije povezati četiri ista simbola, pod uvjetom da se oni dodiruju, bilo okomito, vodoravno ili u kombinaciji to dvoje. Nakon što igrač ostvari dobitak povezivanjem minimalno četiri simbola, oni nestaju s ploče i na njihovo mjesto padaju novi simboli. U igri postoji i takozvani Portal koji se puni kada igrač ostvaruje dobitke. Kako se on puni, na ploči će se sve češće pojavljivati wild simboli.
Ulozi i isplate
U igri Tome of Madness, minimalan broj istih simbola potrebnih za ostvarivanje dobitka je četiri. To znači da se četiri ili više istih simbola mora spojiti na dobitnoj liniji ili u klasteru kako bi se ostvarila isplata. Što se tiče maksimalnog broja istih simbola, igrači srećom imaju priliku spojiti čak deset istih simbola, što donosi potencijal za visoke dobitke.
Uz različite simbole i kombinacije koje mogu biti ostvarene, igra nudi različite iznose isplata. Svaki simbol ima svoju vrijednost i ovisno o broju simbola u dobitnoj kombinaciji, igrači će ostvariti odgovarajuću isplatu. Postoji mnogo mogućnosti za stvaranje dobitnih kombinacija, što čini igru uzbudljivom i potencijalno unosnom.
Ono što će sigurno privući pažnju igrača je mogućnost ostvarivanja velikih dobitaka u igri. Najveći mogući dobitak u igri Tome of Madness može biti čak 2000 puta veći od uloga. Ovo je izuzetno visok potencijal za dobitak koji može donijeti značajne isplate i izazvati uzbuđenje kod igrača.
Ulozi i isplate u igri Tome of Madness pružaju igračima mogućnost za ostvarivanje različitih dobitaka, ovisno o broju spojenih simbola i njihovoj vrijednosti. Veliki potencijal za visoke dobitke, uključujući mogućnost dobitka koji je čak 2000 puta veći od uloga, čini ovu igru izazovnom i zanimljivom za sve igrače koji traže velike isplate i uzbuđenje.
Bonusi
Najznačajniji bonus u ovoj igri dolazi kada igrač uspije napuniti Portal. To nije lak zadatak no kada se to dogodi, igrač ostvaruje pravo na besplatne runde u takozvanom drugom svijetu u koji ulazi kroz otključani Portal. Može se reći da je otvaranje portala zapravo glavni cilj igračima jer tada ostvaruju najveće dobitke, a bonus vrtnje već su se dokazale najisplativijima u igrama u kojima imamo Richa Wildea kao glavnog lika.
Povratak uloženog igračima u igri Tome of Madness
Povratak uloženog igračima ili RTP je karakteristika svake slot igre, a govori koliki se postotak sredstava kroz igranje u određenom vremenskom periodu vrati igračima. U slučaju igre Tome of Madness on iznosi 96.59% što je vrlo dobro. To nam daje do znanja da će se kroz igranje u nekom određenom roku igračima vratiti 96.59% sredstava koje su izvrtjeli. Primjerice, ako su igrači u ovoj igri izvrtjeli ukupno 1000 eura, kroz vrtnje bi im se trebalo vratiti 965 eura i 90 centi.