Zaigraj Supreme Hot besplatno
Supreme Hot
Ideja

Grafika

Audio

Bonus
Supreme Hot je progresivni video automat s 3 valjka i 27 isplatnih linija koji pokreće softverska platforma EGT Interactive. Ovaj automat s voćnom temom retro izgleda unosi ozbiljnu vrućinu. Iako je ovaj automat nastavak Burning Hot automata, ovaj na neki način ispada iz šablone.
Ovo je onoliko klasično koliko moderne slot igre mogu biti – 3 valjka, 3 reda i veliki simboli uključujući voće, zvjezdice, poluge i sretnih 7. Ako pripadate mlađoj generaciji i nikada niste imali priliku zaigrati te stare zemaljske igre na automatima, onda vam je prilika da to učinite.
Kako igrati Supreme Hot Slot
Srećom, nijedan slot nije prevruć da bi ga dobar igrač mogao obraditi pa evo kako možete staviti stvari pod kontrolu i postaviti svoje oklade prije nego što se valjci zavrte.
Ploča za brzo klađenje prikazuje vaše oklade, a u isto vrijeme automatski će vrtjeti valjke za taj ulog.
Kada pritisnete Kredit, pojavit će se mali klizač koji vam daje priliku da odaberete broj kredita po liniji što posljedično povećava ulog.
Automatska igra vrtjeti će valjke bez prekida pri posljednjoj odabranoj okladi. Valjci će se vrtjeti sve dok ponovo ne pritisnete isti gumb da biste ih zaustavili.
Kockanje se pojavljuje nakon što se dobitna kombinacija formira na zaslonu dobitka i koristi se za pokretanje značajke kockanja.
Značajke slota
Supreme Hot slot je jednostavan po dizajnu, ali ima nekoliko zanimljivih značajki. Iako ne uključuje uobičajene značajke poput Wild i Scatter simbola, igra ima jedinstvenu značajku poznatu kao Multiplier.
Značajka Multiplier aktivira se svaki put kada na valjcima sletite na grožđe, jabuke, breskve i trešnje koje prekrivaju sve polje. Kada se na svim valjcima pojavi 9 istih simbola odabranog voća, to će rezultirati aktivacijom Multiplier značajke. Ova značajka će pomnožiti ukupni dobitak u igri s faktorom x2, što znači da će igrači imati priliku udvostručiti svoje dobitke ako uspiju spojiti 9 istih voćnih simbola na svim valjcima.
Ova jedinstvena značajka pruža dodatnu uzbuđenje igri Supreme Hot. Igračima se nudi mogućnost povećanja svojih dobitaka i ostvarivanja većih isplata putem Multiplier značajke. Osjetiti uzbuđenje kada se voćni simboli poravnavaju i pokreću Multiplier značajku može donijeti dodatnu dozu zabave i napetosti tijekom igranja.
Iako nema tradicionalnih Wild i Scatter simbola, značajka Multiplier je zanimljiv način da se igračima omogući dodatno povećanje njihovih dobitaka. To čini Supreme Hot slot igru privlačnom i intrigantnom za ljubitelje jednostavnih, ali zabavnih slot igara.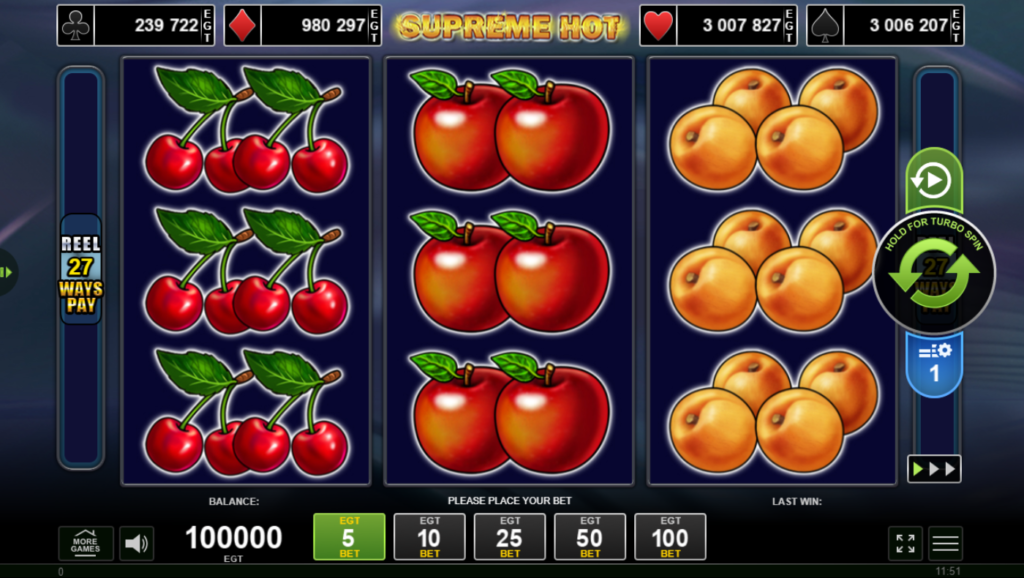 Kockanje
Pritiskom na gumb Kockanje u igri Supreme Hot aktivira se značajka Kockanje koja igračima pruža mogućnost udvostručenja njihovih dobitaka. Ova značajka dodaje dodatnu dozu uzbuđenja i rizika tijekom igre.
Kada se aktivira značajka Kockanje, igračima se prikazuje karta koja je okrenuta licem prema dolje. Njihov je zadatak pogoditi boju karte koja će biti izvučena sljedeća – crvena ili crna. Ako igrač točno pogodi boju karte, njihov dobitak će se udvostručiti, što znači da će osvojiti veći iznos. Međutim, ako igrač pogriješi u svom odabiru, izgubit će svoj dobitak i vratiti se u osnovnu igru.
Ova značajka Kockanje pruža igračima dodatnu priliku za povećanje svojih dobitaka, ali istovremeno nosi određeni rizik. Odluka o sudjelovanju u značajci Kockanje ovisi o preferencijama igrača i njihovom apetitu za rizikom. Važno je napomenuti da igrači mogu napustiti Gamble rundu u bilo kojem trenutku i prikupiti svoj dobitak pritiskom na gumb Collect. Ovo je korisna opcija koja omogućuje igračima da prekinu Kockanje i zadrže svoj trenutni dobitak.
Jackpot Cards Mystery
Uzbuđenje u igri Supreme Hot dodatno se pojačava zahvaljujući nasumično aktiviranoj značajki Jackpot Cards Mystery bonus. Ova značajka donosi mogućnost osvajanja jednog od 4 različita nivoa jackpotova. Svaka karta ima svoju razinu jackpota, a indikatori su postavljeni iznad valjaka kako bi igrači mogli pratiti njihovo napredovanje.
Kada se značajka Jackpot Cards Mystery aktivira, igračima će biti prikazane 12 karata okrenutih prema dolje. Cilj je odabrati karte sve dok ne otkrijete 3 karte iste boje. Svaka boja karte predstavlja određenu razinu jackpota. Na primjer, Tref može biti 1. razina, Karo 2. razina, Heart 3. razina, a Pik 4. razina.
Nakon što igrači uspješno odaberu 3 karte iste boje, bit će im dodijeljena odgovarajuća jackpot nagrada. Ova značajka pruža dodatnu šansu za osvajanje velikih nagrada, a nivo jackpot nagrade ovisi o tome koje karte igrači odaberu.
Jackpot Cards Mystery bonus dodaje dodatni element uzbuđenja i mogućnost osvajanja velikih isplata u igri Supreme Hot. Igrači će biti oduševljeni kada aktiviraju ovu značajku i imaju priliku osvojiti jedan od jackpotova. Ovo je sjajan način za podizanje adrenalina i dodavanje dodatne vrijednosti igri.
Zaključak
Supreme Hot automat nudi zanimljivo iskustvo igranja. Za razliku od ostalih automata iz serije, ovaj ima samo 3 bubnja i nedostatak značajki Wild i Scatter, ali je zadržao one klasične koje imaju ostala 4, automat za kockanje i progresivni jackpot.
Uz broj isplatnih linija koje ovaj automat nudi, moramo priznati da je bolje pasti u plamen pokušavajući nego uopće ne pokušati. Što god da odaberete, ovaj slot definitivno vrijedi probati, pogotovo ako su vam se svidjela ostala 4 iz serije.