Zaigraj Solar Queen besplatno
Solar Queen
Ideja

Grafika

Audio

Bonus
Otputujte natrag u mjesto mističnosti i ljepote s egipatskom temom, Solar Queen.
Ovaj novi slot 4×5 zaokupit će igrače svojim progresivnim prikupljanjem množitelja i Wild simbola. Trebate samo dobiti silmbol Sunca kako bi se aktivirao slijed događaja za ciklus od 10 okretanja. Tijekom besplatnih okretanja ljepljivi Wild simboli povećavaju šanse za Velike dobitke.
Najveća isplata od bilo kojeg okretaja bez povećanja množitelja je samo 200x veći od vašeg uloga. Sam potencijal maksimalne pobjede također nije toliko impresivan.
Ovdje se možete kladiti između 20centi i 100€ po okretaju, što je prilično standardan raspon oklada. RTP od 95,78 % najveći je u nizu do sada, ali je još uvijek ispod "čarobne" granice od 96 % koje se drži većina modernih video automata. 10 ciklusa okretanja će vas pokrenuti na početku, ali ćete uskoro naučiti smanjiti svoja očekivanja.
Solar Queen značajke
Značajka Vaternog okvira ono je što definira ovu igru, a od nje ćete imati koristi pri svakom 10. okretaju u osnovnoj igri. Simboli sunca pale okvir oko bilo koje pozicije na koju padnu, a ti plameni okviri ostaju ljepljivi dok se ne završi ciklus od 10 okretaja. Ovdje ćete također imati koristi od simbola kraljice, a to je najveći uplatitelj u ovoj igri.
Prilikom 10. okretaja, sve pozicije uokvirenih simbola postaju Wild, što može dovesti do isplate od 200x ako je cijeli zaslon ispunjen Wild simbolima i/ili simbolom Queen. Međutim, svaki novi simbol sunca koji postavite u plameni okvir povećava globalni množitelj za +1. Ovdje nema gornje granice koliko progresivni množitelj može ići, barem u teoriji.
Bonus runda se pokreće kada dobijete 3 Scatter skarabeja na valjcima 1, 3 i 5 u istom okretaju. Ovo vam daje 10 besplatnih vrtnji, a svi simboli sunca koji padnu tijekom bonus runde odmah će se pretvoriti u ljepljive Wild simbole. Wild simboli ostaju na mjestu tijekom značajke, a koji god množitelj koji ste postigli u osnovnoj igri prenosi se u bonus krug.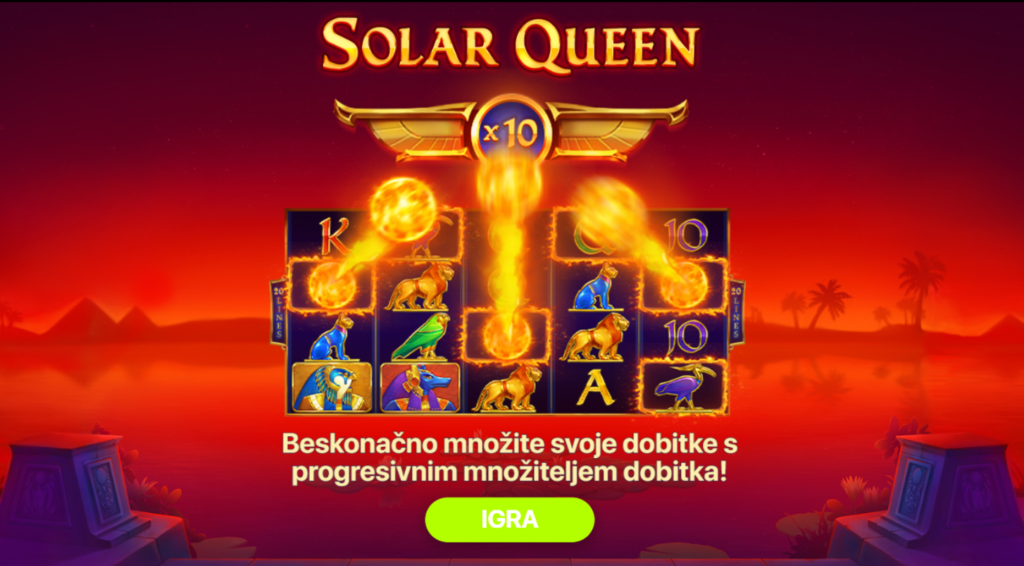 Pregled sažetka
Ciklus od 10 okretaja u osnovi vam daje stalan razlog da se nastavite vrtjeti, jer ste uvijek "blizu" vrhunskog Wild izdanja. Međutim, mnogo puta se ova značajka Vaterni okvir na kraju isplati vrlo malo ili se čak uopće ne isplati, tako da brzo i dosadi. Osim toga, stvarno trebate izgraditi solidan multiplikator da biste ovdje osvojili velike pobjede, što nije uvijek lako.
Potencijal jednog okretaja od 200x prilično je slab kada se sve uzme u obzir, a ciklus Vaternog okvira je uglavnom uzbudljiv kada ste uspjeli izgraditi pristojan množitelj. Prenošenje tog množitelja u bonus krug vaš je ključ uspjeha u automatu Solar Queen, a može dovesti do isplata do 2668x vašeg uloga.
Zaključak – prednosti i nedostatci
Solar Queen je igra koja ima nekoliko prednosti koje ju čine privlačnom igračima. Jedna od prednosti je Wild ciklus od 10 besplatnih vrtnji nadalje. Ovo znači da, nakon što pokrenete besplatne vrtnje, svaki put kad se Wild simbol pojavi na kolutima, on će ostati na mjestu i ostati tamo tijekom preostalih vrtnji. Ovo povećava šanse za ostvarivanje dobitnih kombinacija i donosi dodatne dobitke.
Još jedna prednost je množitelj koji se prenosi u bonus krug. Kada aktivirate bonus krug s besplatnim vrtnjama, množitelj se postavlja na x1, ali svaki put kad se pojavi Wild simbol, množitelj se povećava za jedan. Ovo može rezultirati visokim množiteljem koji će povećati vaše dobitke tijekom bonus kruga.
Bonus vrtnje također donose prednost Solar Queen igre. Uz besplatne vrtnje, pojavljuju se ljepljivi Wild simboli koji će ostati na mjestu tijekom cijelog bonus kruga. Ovo stvara veće šanse za ostvarivanje dobitaka i dodaje uzbuđenje tijekom igre.
Jedini nedostatak Solar Queen igre je ispodprosječan RTP (Return to Player) koji iznosi 95.78%. Ovo znači da igra vraća manji postotak uloženog novca igračima u obliku dobitaka u usporedbi s drugim slot igrama. Iako ova razlika može biti mala, neki igrači preferiraju igre s većim RTP-om kako bi imali bolje šanse za ostvarivanje dobitaka na duge staze.