Zaigraj John Hunter and the Book of Tut besplatno
John Hunter and the Book of Tut
Ideja

Grafika

Audio

Bonus
Za dobavljača ovog statusa John Hunter and the Book of Tut izvrstan je slot koji je došao do predvorja brojnih operatera. John Hunter and the Book of Tut pojavili su se na tržištu 6. svibnja 2020. nudeći uzbudljivu igru i vrhunsku grafiku.
Pogledajte metriku slota da biste vidjeli je li to najbolji izbor za vas. Ova slot igra nudi 96,5% RTP-a, visoku disperziju i x5000 potencijal pobjede, maksimalnu pobjedu. S prilično uravnoteženim matematičkim modelom i mogućnošću značajnih oscilacija, igra je uvijek zanimljiva. Sve u svemu, pruža ugodno iskustvo igranja.
John Hunter and the Book of Tut namijenjen je onima koji cijene igru koja ima klasične i jedinstvene elemente. Ako se nijedna značajka ne aktivira, osnovna igra je i dalje zabavna, ali čim se znakovi wild, scatter ili drugi posebni simboli ili značajke pojave na valjcima, prelazi na potpuno novu razinu.
Ako pratite izlazak Pragmatic Play automata, vjerojatno znate da je John Hunter and the Book of Tut daleko od prvog u kolekciji posvećenoj avanturistu. Ovaj put, zajedno s Johnom Hunterom, morate otići u drevni Egipat kako biste pronašli skriveno blago.
Tehnički gledano, automat John Hunter and the Book of Tut ima standardni format 5×3 i samo 10 nagradnih linija. Da biste postigli dobitak, morate uhvatiti najmanje dva ili tri simbola (ovisno o njihovoj vrijednosti) na polju za igru. Dakle, sve karte se igraju od tri, a dovoljno je imati još samo dva vrijednija simbola među kojima su skarabej, mačka, faraon i John Hunter.
Možete se pridružiti avanturistu na svim kompatibilnim uređajima odabirom oklade koja se kreće od 0,10 eura do 100 eura. Možete igrati odabirom ručnog ili automatskog načina rada. Ako volite brzu igru, pritisnite tipku Quick Spin. Varijanca u automatu John Hunter and Book of Tut je velika, RTP je 96,5%, a najveća moguća isplata za vrtnju je 5000x.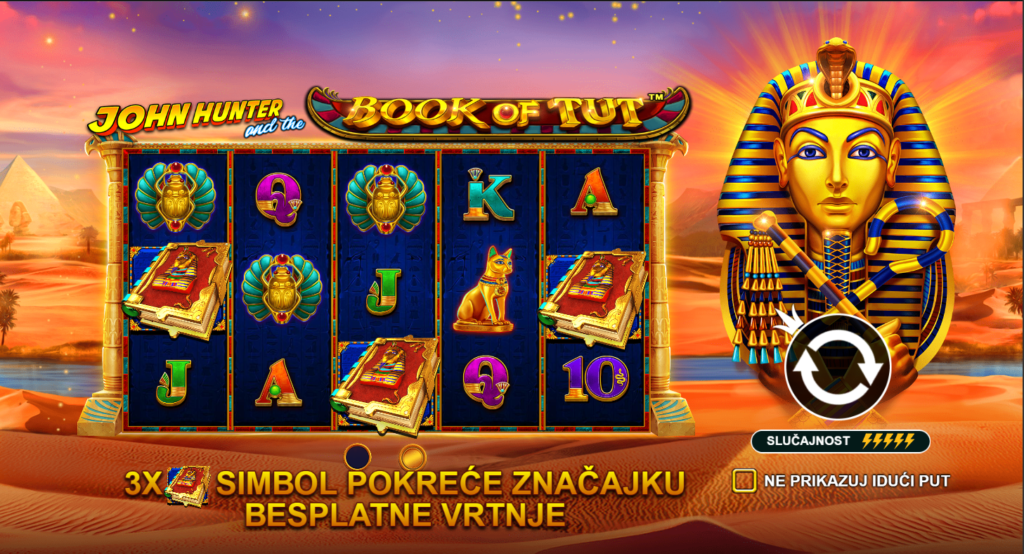 Posebni simboli
Knjiga ima dvije uloge u isto vrijeme, a može se koristiti kao wild i scatter simbol. U prvom slučaju zamjenjuje sve simbole, a u drugom pokreće besplatne vrtnje.
Bonus značajke
Kada igrate automat John Hunter and the Book of Tut, pronaći ćete samo jednu bonus značajku koja se može aktivirati na dva načina.
Prvi način je čekati potreban broj scatter simbola na polju za igru: tri, četiri ili pet. Kada se to dogodi, dobit ćete 2x, 20x ili 200x svoje oklade, kao i 10 besplatnih vrtnji.
Drugi način je kupnja besplatnih okretaja. Obratite pozornost na natpis Buy Free Spins koji se nalazi na lijevoj strani zaslona igre. Ako kliknete na njega, uplatite iznos koji je 100 puta veći od vaše oklade, odmah možete ući u besplatne vrtnje. Njihov broj je isti kao i kod standardnog lansiranja, tj. 10.
Bez obzira na način na koji ste aktivirali rundu, prije početka besplatnih okretaja vidjet ćete knjigu s kojom je odabran jedan od simbola za redovno plaćanje. Tijekom besplatnih okretaja, kada se ovi posebni simboli pojave na valjcima, šire se i pokrivaju cijeli valjak. Ponovno pokretanje besplatnih okretaja dodaje dodatnih 10 rundi, ali zadržava isti početni posebni simbol.
Zaključno, željeli bi reći da je ova slot igra dostojan nastavak slotova s Hunterom u glavnoj ulozi. Naravno, što se tiče bonus značajki, John Hunter slot je kopija Book of Ra, ali s malo izmijenjenim matematičkim karakteristikama.