Zaigraj Fruit Spin besplatno
Fruit Spin
Ideja

Grafika

Audio

Bonus
Fruit Spin je slot igra koja će probuditi nostalgiju kod nešto starijih igrača, a ujedno će i njima i mlađima donijeti dosta zarade i zabave.
Fruit Spin je jedna od najpopularnijih slot igara iz kategorije "slot voćkice". Od kada su prvi put uvedene kao slot igre "voćkice" do danas nisu izgubile na popularnosti. Gotovo da nema igrača koji nekada nije probao neku od ovih igara.
Ideja
Fruit Spin slot igru pokreće Net Entertainment softver. Kao i većina njihovih igara i ova je zaista "pun pogodak". Ono što je igračima bitno je i to da igre budu provjerene i sigurne, a NetEnt sa svakom svojom igrom to i nudi. Fruit Spin čine pet kotača, četiri reda i na njemu postoji 40 mogućih dobitnih linija. Simboli koji se pojavljuju su borovnica, naranča, trešnja, limeta i malina. Oni su dizajnirani poput rubina, smaragda i safira što zaista djeluje impresivno. Pored njih tu su brončane, srebrne i zlatne poluge. Svi simboli mogu se pojaviti na svim kotačima i tako je vaša šansa za dobitak veća.
Grafika
Iako je izgled Fruit spin slot igre prilično jednostavan on ima zaista živopisnu grafiku. Ovakva grafika će se posebno svidjeti onim igračima koji vole doživjeti "retro" iskustvo, jer zaista vraća sjećanja iz nekih prošlih dana kada su ovakve igre bile izuzetno popularne za igranje na slot automatima.
Jasan i čist interface sa odlično napravljenim simbolima svrstavaju grafiku ove igre u najveću moguću kategoriju što je i očekivano od tvrtke koja ju je napravila.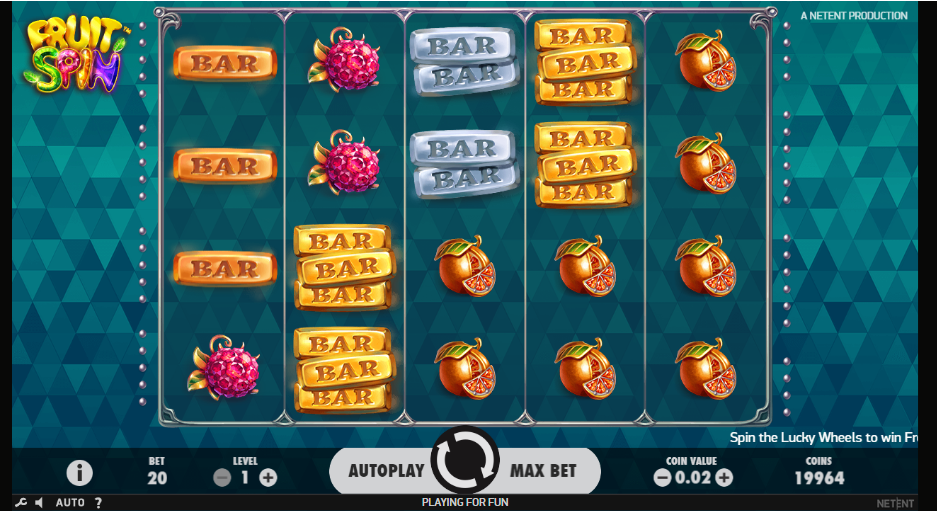 Audio
Izuzetno visoku ocjenu može dobiti i audio zapis ove igre. Tokom cijelog vremena dok igrate ovu slot igru u pozadini se čuje umirujući i blagi zvučni zapis. Svaka dobitna kombinacija propraćena je karakterističnim zvukom.
Naravno, ako ne želite slušati bilo kakve zvuke tijekom vaše partije imate i opciju za ugasiti zvuk u donjem lijevom kutu prozora vaše igre.
Bonus
Kada govorimo o bonusima Fruit Spin ih ima nekoliko. Prije svega ćemo spomenuti Lucky Wheels koji dobivate kada se bilo koji od 3×3 Scatter simbola pojavi na kotačima. Nakon toga tri posebna kotača se zavrte i donose vam novčane nagrade ili vam otključavaju besplatne vrtnje. Novčane nagrade idu i do četiri puta više od onoga što ste uložili, ali ono što vi zaista želite je da na sva tri kotača dobijete besplatne vrtnje.
Free spins opcija počinje sa pet besplatnih vrtnji s tim što se tada Fress spins simbol transformira u Extra spins simbol – kad god se ovo dogodi dobit ćete još jednu dodatnu vrtnju besplatno. Ono što Free spins opciju čini posebno zanimljivom je to da se tijekom besplatnih vrtnji 3×3 Scatter simboli mogu pojaviti na tri središnja kotača. Ako ovo dobijete na svim Kotačima tijekom besplatnih vrtnji možete se pripremiti za veliki dobitak. Maksimalni iznos koji možete dobiti je 600 puta od onoga koji ste uložili.
Zaključak za Fruit Spin
Fruit Spin slot igra je veoma jednostavna za upotrebu i svim igračima može donijeti dobru zabavu. Uz lijepu grafiku i odličnu audio podršku ona je vrlo dobar izbor za svakog ljubitelja ovakvih slot igara. Ako tome dodamo i jako dobre bonus opcije Fruit Spin je igra koju definitivno trebate isprobati.