Zaigraj Cocktail Rush besplatno
Cocktail Rush
Ideja

Grafika

Audio

Bonus
Cocktail Rush je uzbudljivi slot razvijen od strane Amusnet Interactive-a. Ova slot igra donosi osvježavajuću atmosferu tropske plaže i egzotičnih pića, zajedno s mogućnošću ostvarivanja impresivnih dobitaka. Sa 5 valjaka i 10 fiksnih isplatnih linija, Cocktail Rush pruža igračima nevjerojatno iskustvo igranja uz živopisne grafike i zvučne efekte. Scatter simboli koktela i divlji simbol Totema dodatno povećavaju šanse za velike dobitke, dok niska volatilnost i visoki RTP osiguravaju uzbudljivu i isplativu igru. Upustite se u avanturu Cocktail Rush i osvojite bogate nagrade na tropskom otoku.
Cocktail Rush od Amusnet Interactive / EGT je online automat koji se može igrati na većini uređaja, uključujući mobitele i tablete. Ova slot igra ima neke zanimljive teme i uzbudljive značajke o kojima treba znati. Saznajte više iz naše recenzije automata Cocktail Rush u nastavku.
Tema i kako igrati
Tema slot igre Cocktail Rush temelji se na plaži, voću, sedmicama i ljetu, stvarajući veselu i tropsku atmosferu. Grafički dizajn slot igre je vrlo privlačan, s 5 valjaka i 10 mogućih isplatnih linija. Kada igrate Cocktail Rush, imate mogućnost odabrati opciju Autoplay, koja omogućava automatsko okretanje valjaka. Možete odabrati željeni broj okretaja, kao što su 10, 25, 50, 100 ili čak više. Osim toga, možete postaviti uvjete zaustavljanja automatske reprodukcije, kao što su dobitak koji premašuje određeni iznos ili promjena salda za odabrani iznos. Ova fleksibilnost omogućuje igračima da zadrže kontrolu nad svojom igrom i igraju odgovorno.
Maksimalan dobitak, RTP i Volatilnost
Maksimalni dobitak u igri Cocktail Rush može doseći čak 700 puta veću vrijednost od ukupne oklade. Iako se ova suma može činiti manjom u usporedbi s nekim drugim automatima, važno je napomenuti da igrači često imaju priliku osvajati manje dobitke češće. Ova vrijednost je rezultat mnogih okretaja valjaka, često u milijardama.
RTP (Return to Player) za Cocktail Rush iznosi 96,41%, što je dobar i prosječan postotak za online automate. RTP predstavlja postotak uloga koji se vraća igračima tijekom dužeg vremenskog razdoblja. Na primjer, ako igrač uloži 10 €, očekuje se da će dugoročno dobiti povrat od 9,641001 €. Važno je napomenuti da se RTP vrijednost izračunava na temelju milijuna okretaja valjaka, što znači da će ishod svakog pojedinačnog okretaja biti potpuno nasumičan.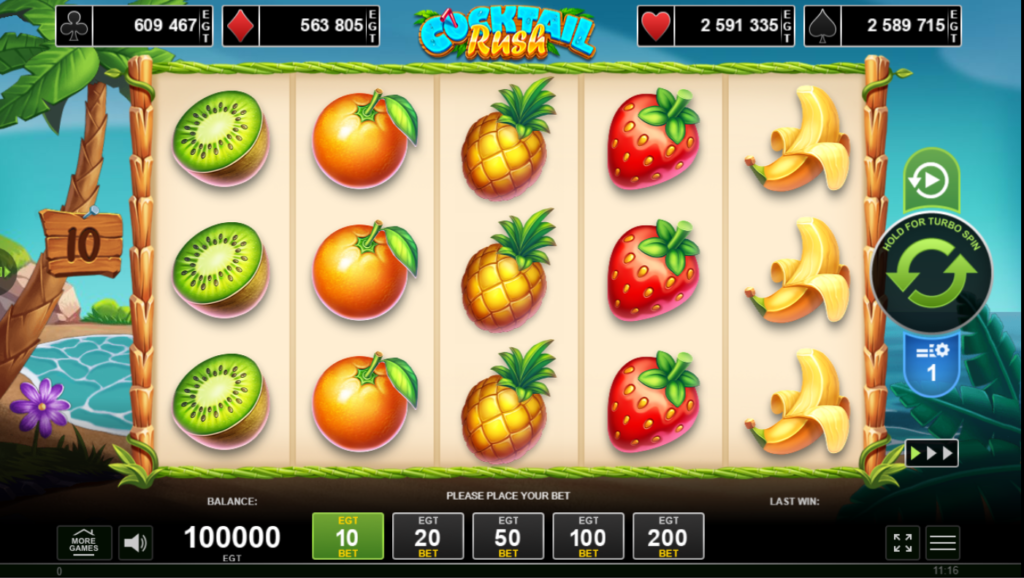 Bonus značajke
U slot igri Cocktail Rush, igrači se susreću s dva scatter simbola koji su predstavljeni kao kokteli. Jedan od tih scatter simbola je simbol koktela od lubenice, koji se pojavljuje samo na prvom, trećem i petom valjku.
Scatter simboli imaju posebnu važnost jer ne moraju biti smješteni na isplatnim linijama kako bi ostvarili isplate. Kada se dva scatter simbola, poput koktela, pojave na valjcima, aktivira se posebna bonusna značajka ili runda besplatnih okretaja. Ova uzbudljiva funkcija pruža igračima dodatnu šansu za osvajanje dobitaka bez dodatnih uloga, čime stvaraju dodatno uzbuđenje i zabavu tijekom slot igre Cocktail Rush.
U slot igri Cocktail Rush, divlji simbol je simbol totema koji se pojavljuje na drugom, trećem i četvrtom valjku. Ovaj simbol ima posebnu funkciju jer može zamijeniti sve ostale simbole na istom valjku, osim scatter simbola. To znači da divlji simbol može pomoći u stvaranju ili poboljšanju pobjedničkih kombinacija zamjenjujući nedostajuće simbole na valjku. To dodatno povećava šanse za ostvarivanje dobitaka. Važno je napomenuti da divlji simbol ne može zamijeniti scatter simbole, koji imaju svoju posebnu ulogu u igri Cocktail Rush. Divlji simbol totema donosi dodatnu dinamiku igri i pomaže igračima u ostvarivanju većih dobitaka.
Značajka Gamble
Značajka Gamble u slot igri Cocktail Rush pruža dodatnu uzbuđenje i mogućnost udvostručenja ili čak utrostručenja dobitka. Ova opcija obično postaje dostupna nakon svake dobitne kombinacije koju ostvarite tijekom igre. Kada se pojavi mogućnost Gamble-a, imate priliku odabrati hoćete li rizikovati svoj dobitak u nadi da ćete ga povećati.
Kada odaberete Gamble, bit ćete preusmjereni na zaseban zaslon koji prikazuje kartu koja je okrenuta licem prema dolje. Vaš zadatak je pogoditi boju ili simbol karte kako biste povećali svoj dobitak. Ako uspijete pogoditi boju karte (crvena ili crna), udvostručit ćete svoj dobitak. Ako se usudite i odlučite pokušati pogoditi simbol karte (karo, tref, herc ili pik), imate priliku utrostručiti svoj dobitak. Međutim, treba napomenuti da je ova opcija rizična, jer pogrešan odabir rezultirat će gubitkom vašeg dobitka.
Gamble značajka pruža igračima dodatnu interakciju i mogućnost da uživaju u malo većem uzbuđenju. Međutim, važno je biti svjestan rizika i odlučiti se samo ako ste spremni preuzeti tu vrstu rizika. Nije obavezno koristiti značajku Gamble, pa igrači mogu odlučiti preskočiti je i zadržati svoj dobitak nakon dobitne kombinacije.
Značajka Jackpot
Jedna od izvanrednih značajki slot igre Cocktail Rush je jackpot. Ova uzbudljiva značajka pruža igračima mogućnost osvajanja velikih nagrada. Cocktail Rush nudi čak 4 jackpotova koji se mogu nasumično aktivirati tijekom slot igre. Kada jednom aktivirate jackpot, dočekat će vas izazov odabira 3 karte iste vrste među 12 karata koje su okrenute prema dolje. Vaša sreća će odlučiti koji jackpot osvajate, ovisno o karti koju odaberete. Ova uzbudljiva značajka pruža dodatnu razinu napetosti i uzbuđenja igračima Cocktail Rusha, dok se nadaju osvajanju jednog od jackpotova i ostvarivanju fantastičnih dobitaka.
Zaključak
Zaključno, igra Cocktail Rush nudi izvanredne značajke poput scatter simbola u obliku koktela i divljeg simbola u obliku totema. Scatter simbol koktela, s posebnom varijantom u obliku koktela od lubenice, aktivira bonusne značajke i runde besplatnih okretaja. Divlji simbol totema, koji se pojavljuje na drugom, trećem i četvrtom valjku, zamjenjuje druge simbole na istom valjku kako bi poboljšao pobjedničke kombinacije. Ovi simboli pružaju dodatnu uzbuđenost i mogućnost za veće dobitke tijekom igre. Sve zajedno, slot igra Cocktail Rush pruža uzbudljivo iskustvo i priliku za osvajanje impresivnih nagrada.